Get Over It and Get Naked at Manhattan's New Spa Castle
by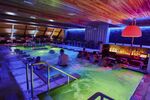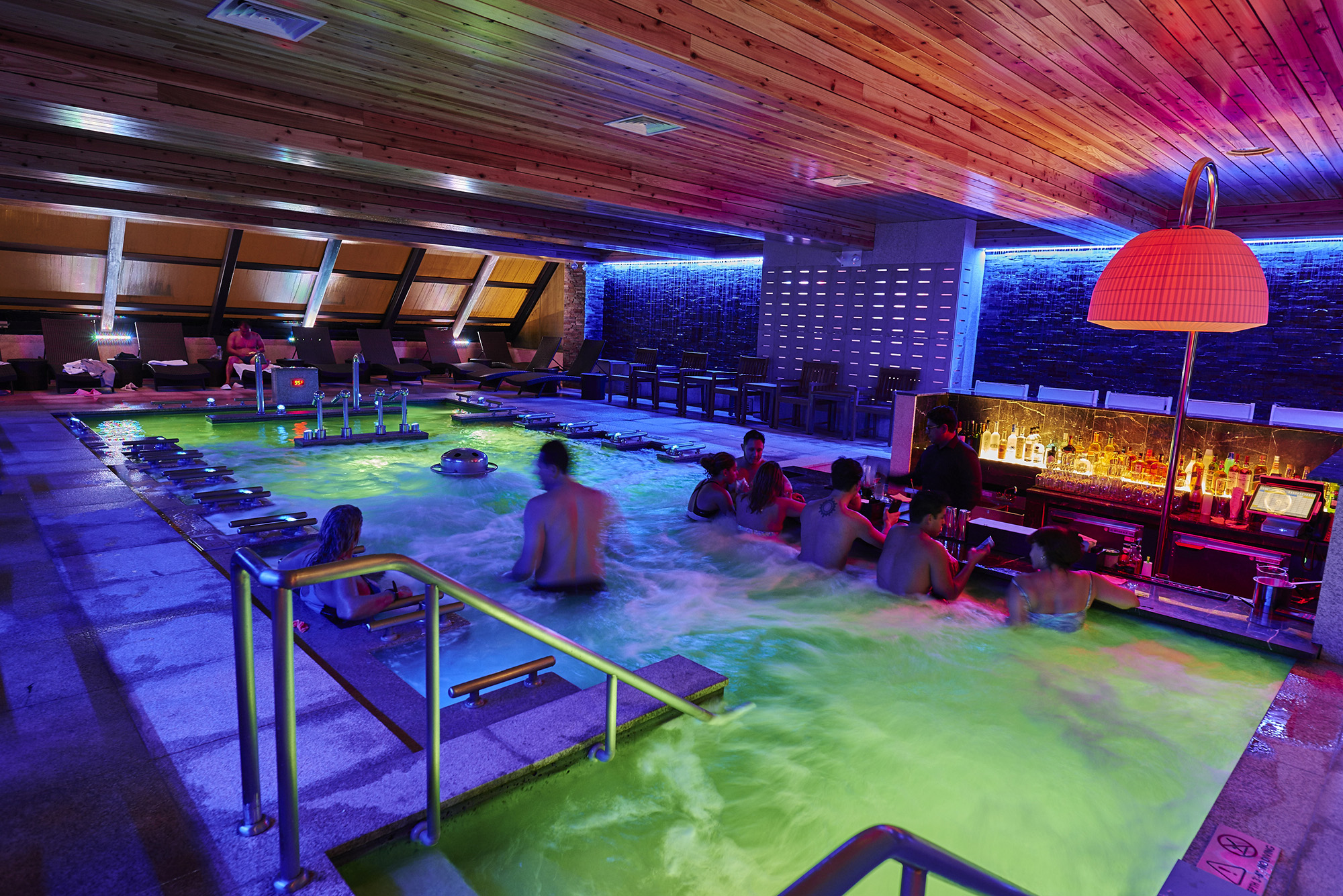 Should I zen out in the steamy blue meditation room, join the cocktail party in the pool, or be bathed in whole milk by a Korean therapist in the nude-only water lounge? These are the difficult choices one faces at Manhattan's hot new wellness retreat, the Spa Castle Premier 57.

Luckily, one can easily accomplish all three and then-some at this $8 million feel-good funhouse, the latest of three Spa Castle outposts built, owned and operated by C.Castle Group Corp.

It's a bold move, opening yet another big spa smack in the middle of hotel-stuffed midtown Manhattan -- but to the avid spa goer, it is a welcome one. Firstly, New York's first Spa Castle location in College Point, Queens, was remote to many -- and turned visits into a rare special occasion. Second, to use a bit of New York real estate jargon, the place is massive. And third, for the prudes out there, the group nudity aspect of the chain has been downplayed -- although there are still shallow, single-gender pool areas where no clothes are allowed and towels are discouraged.
(Worst case scenario? You run into a work colleague in-the-buff, and are forced to forever pretend like it never happened. Otherwise, water lounge nudity is treated much like a standard gym sauna, where you and your naked bum will go largely unnoticed.)
The Facts
Spanning 39,000 square feet and taking up three floors of midtown's Galleria building, this European spa-Korean bathhouse hybrid is divided into the aforementioned nude lounges, two hydrotherapy jet-massage pools, a "Sauna Valley" (comprised of 6 different types of saunas, including a 'Himalayan Salt Room' and an 'Ice Igloo'), and three resting lounges (meditation room, sleeping room, and infrared heat lamp lounge). There's also a café serving juice and light fare, and a swim-up poolside Aqua Bar serving beer, wine and Asian-inspired cocktails.

The best part? It's accessible. Admission for a full day of splashing around, which does not require a reservation, costs $65 per person and includes access to the pools, sauna rooms, lounges and communal areas like the poolside aqua bar. (It's also potentially the worst part, if management allows overcrowding.) Separately, spa treatments are sold a la carte, and priced in line with the local luxury market (ranging from $155 to $690.)
Check In
To get to the spa, enter the cavernous corporate lobby of the Galleria building on 57th street. Take an 80s-throwback elevator with harried office workers and well-dressed women heading into doctors' offices. Exit on the 8th floor to the bustling Spa Castle foyer which, with its black and orange lava-lamp motifs, feels more like the entrance to a nightclub than to a soothing treatment center. There, efficient staff members take your credit card details and hand you a plastic, electronic watch.

This nifty gadget, which looks like what you'd wear if you were a real-life Barbie, is actually pretty handy. It acts as both the key to your locker and as your wallet, by scanning all of your in-spa purchases. (So don't take it off, even if it doesn't match your bathing suit.)

Next, you'll be asked to remove your shoes, and are given a 'uniform' and slippers. This, in my case, was a stiff, blue hospital robe and old-lady Pepto-Bismol pink slippers. I'm either ready for a great Korean massage or an audition for "One Flew Over the Cuckoo's Nest."

On the bright side, you won't spend much time wearing this.
Cocktails and Closed Pools
Those seeking to de-stress after work can don a bathing suit and head straight to the literal watering hole, also on the 8th floor. Here, under atrium style windows that stream in natural light and a view of Galleria condos, patrons splash about in an oversized jacuzzi pool with aqua massage jets as powerful as the 'Aqua bar' cocktails served poolside.

"What's better, the Ginger Martini or the Korean Bellini?" asked one young professional female patron, who ultimately decided on the former ($16) before floating back to her birthday-party group of girlfriends. The group's chatter was overwhelmed by the sound of roaring bubbles, which doesn't seem to bother the 20-odd other pool loungers - a multi-cultural medley of 30-40 something career gals, buff investment banker types, and tattooed Brooklyn hipsters.

The bar area isn't quite ready for prime time; the menu isn't finalized, or even printed, yet. But that's a minor annoyance compared to the big disappointment that is the closing of the spa's rooftop pools. A result of a lawsuit brought by the neighboring Ritz Tower condominium board, patrons will (at least temporarily), miss out on the spectacular views from the 9th floor and multi-colored mineral pools infused with lavender, ginseng, and rose petals.
The Ritz claims the spa violates a 1973 easement that limits the height of the any structure on the roof of the building, although it seems like noise would be more of an annoyance. A State Supreme Court judge recently ruled against Spa Castle -- which is appealing the decision.
Sauna Valley
Once properly water-logged by the 8th floor, patrons can venture up a flight of stairs, where they'll find six saunas (named Gold Pyramid, Far-Infrared, Ice Land, Himalayan salt, Chromotherapy, and Loess Soil). They are each designed to accomplish distinct health benefits.
"Which color should I choose?" asks one bikini-clad patron entering the Chromotherapy room. "What are you looking to achieve?" replies Stephanie Chon. The patron ponders this for a moment, before deciding on 'happiness and calmness.' Chon recommends the sauna's yellow section (for happiness), and green section (for calm.)
Personally, I prefer the novelty of the bright blue ice igloo, frosted with the moisture of coolant and a humidifier, which promptly freezes on a pillar of copper coils in the center of the room. Frost tingles your feet on the floor, and a light mint aroma fills the air. Supposedly, 15 minutes in here will leave your immune system strengthened, and your skin firmer. I don't know about that, but I feel awake and alive upon exit.

If you prefer privacy, book a spa treatment on the 7th floor, where a 12-strong staff of well-trained aestheticians and therapists massage, scrub, and peel their way to a new, pampered you.
Signature Treatments
Spa Castle Premier's website claims it 'allows for all cultures to open their palates to the unfamiliar.' I didn't know I had a spa palate. But, I take Stephanie Chon's spa signature suggestions: the traditional Korean Supreme Body Scrub ($165) and a shortened version of the Caviar Facial ($395).
The Korean body scrub is definitely unfamiliar territory.
The first hint is that the scrub therapists are in their underwear. Chon says this is because it's a wet treatment. Okay. But I still wonder why they wouldn't just wear bathing suits.
To 'soften the skin' and prepare for what is about to happen, Yong, a 5'4'' Korean massage therapist finds me in the locker room, and, in rapid fire succession, directs me to remove my robe (it's a nude-only women's water lounge), to shower and then spend 15 minutes in the three pools, each with their own maddening temperature extremes.
I didn't make it through the open-plan shower before Yong walked in to hand me the proper preparatory soap. "Here. Use this. Better to scrub off dead skin." She then proceeded to change my shower head stream from overhead to the mid-body jets, which apparently I would prefer. This is slightly too close for comfort, but I'll chalk it up to a 'cultural experience.'
The extreme pools were barely bearable. So, I'm relieved when it's time for treatment, and I'm escorted into a little wet-stone room -- an offshoot from the water lounge -- equipped with one plastic covered table, a faucet, a hose, and a big plastic bucket. This utilitarian accoutrement is used alternately to douse freshly scrubbed clients with a big bucket of warm water and soap.
It's like you're the car in your own individual car wash.
The Results
Yet, miraculously, after just 50 minutes, I've shed my old skin like a snake. I've been massaged with oil that smells exactly like baby powder, my hair has been shampooed, and I've been bathed in whole milk, which evidently is very moisturizing - and a lot of fun. I'm renewed, and ready for what's next. So, I confidently stroll out to the middle of the lounge, only to find that there are only hand towels in this room.

Surely, in a nude water lounge, there should be bath towels within reach? It would have saved me a very awkward search for a therapist, who retrieved one for me from a storage closet.
The Caviar Facial
Those looking for a more European-style treatment should opt for a high-falutin' caviar facial, if only because it's performed in one of the spa's four private luxury suites, which are an escape in and of themselves. I quickly learned that the masks aren't made with whole fish eggs, disappointingly, but rather 'caviar egg extract,' which supposedly acts like an enzyme on the skin, according to Korean spa director Su'a, who used Pevonia products throughout the treatment.
Perhaps she's on to something with caviar, I think as I touch my now dewy, firm face. But, overall, the experience didn't stray far from other signatures at established Manhattan spas, like Great Jones Spa, and Bliss.
Final Thoughts
Overall, this vibrant venue is the first of its kind in Manhattan, with the saunas and happy hour pool the biggest selling points. It's a place to find communal rest and relaxation, and maybe even real health benefits. But, they're not fully up to speed.

While the rooftop pool closing is the biggest eyesore, there are other, smaller flaws. The 'sleeping room' on the 9th floor is still in-the-works, the Aqua bar is working out the kinks, and many of the Korean staff members have trouble speaking and understanding English.

That said, after three hours, I didn't want to leave this escapist haven and enter the real world outside. The real world doesn't look as kindly on intoxicated pool hoppers - or, for that matter, nude people.

WHO'S NEXT TO YOU: In the saunas, calm middle aged health seekers looking to zen-out in silence. In the pool, the social set. Young professionals are bathing-suit-clad, proud, and thirsty. In the 7th floor spa, it's just you and your Korean therapist - who could be clad in underwear, depending on the treatment.

WHAT YOU NEED TO KNOW: Don't forget to bring your swimsuit to enjoy the communal pool; but be prepared for full nudity in the separate Men's and Women's water lounges. Also, fair warning, wearing an electronic bracelet with purchasing power while drinking ginger martinis and frolicking under waterfalls could lead to post-spa sticker shock.

Spa Castle's Premier 57 is located at 115 E 57th Street, New York; +1 (212) 750 8800 or http://spacastleusa.com/57/



Before it's here, it's on the Bloomberg Terminal.
LEARN MORE