Elizabeth Warren Would Make a Good President, Carl Levin Says
But he won't tell her to run.
Annie Linskey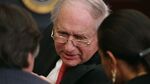 Senator Elizabeth Warren is one of several potential standard-bearers for the Democratic Party, which would benefit from a competitive presidential primary, retiring Senator Carl Levin said Tuesday.
"Sure she would make a good president," the Michigan Democrat said at a Bloomberg News breakfast. "She's got a lot of fire in the area of consumer protection." 
Levin also listed former Secretary of State Hillary Clinton, saying that she feels "in her gut" the impact of the country's widening income gap and the importance of addressing it. 
Levin said Democrats need to talk more about their efforts to protect the middle class, and he acknowledged that doing so could turn off some of the Wall Street and Silicon Valley donors who are giving record amounts to fund political campaigns.
"This is the New Deal, the fair deal, the square deal," Levin said. "I believe as a party we have to let it come out and not worry about the impact of campaign contributions. We can't worry about that."
Levin didn't seek another term and is set to be replaced by Democratic Representative Gary Peters. He demurred on recommending that Massachusetts' Warren get into the race. "I'm not going to advise anyone to run when I'm not running," he said.