Chronicle of Arrest Foretold as Erdogan's Next Move Leaks
Isobel Finkel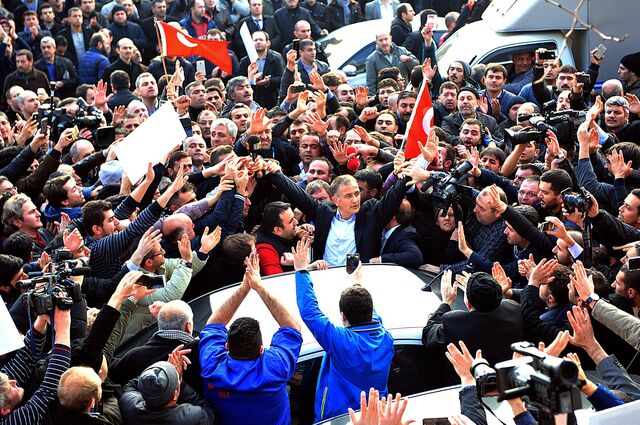 On the day they were going to detain him, Turkish newspaper editor Ekrem Dumanli got up early in the morning to wait for the police to arrive.
Officers showed up at his desk in Istanbul at around 1:30 p.m. on Sunday, Dec. 14. They had a warrant for his arrest, though lacked any element of surprise. They led Dumanli, 50, from the Zaman daily's newsroom to a police car live on television. Many colleagues had been waiting since the previous Thursday, in an atmosphere they described as "festive."
"There were civil society groups in the building, television crews, and other journalists who turned up out of solidarity," said Serkan Sahin, economy editor at the paper, Turkey's largest by circulation. "We all knew it was going to happen so everyone was ready. Some had been sleeping in the office so we could be there when it happened."
The tipoff came from an anonymous Twitter account under the male name Fuat Avni. As the arrest of more than 20 journalists on terrorism charges that day sparks questions about everything from Turkey's commitment to European Union accession to President Recep Tayyip Erdogan's respect for the rule of law, no answer is as elusive as the identity of Turkey's Twitter mole.
Erdogan's government has waged war against Internet leaks all year, passing legislation to track usage and block accounts. For a time, the authorities shut down Twitter and YouTube entirely. Yet Fuat Avni has remained at large.
Corruption Anniversary
The account, which claims to belong to an insider in Erdogan's administration, broadcast a list of names to be detained as early as last Thursday. The arrests, the Twitter oracle claimed, were the latest move in a counter-offensive directed by Erdogan against a religious sect the president blames for corruption allegations against the government.
That group's spiritual leader is Fethullah Gulen, a 73-year-old Islamic cleric who lives in self-imposed exile in Pennsylvania. Gulen, who supported the AK Party throughout its first 11 years in power, has become Erdogan's biggest enemy since the graft charges were made public a year ago today.
The police operation on Sunday was symbolic, as the government goes on the counter-attack, said Emma Sinclair-Webb, Turkey researcher for Human Rights Watch.
"The timing and the limited evidence made public suggests these arrests are politically motivated, not based on reasonable suspicion of a criminal offence," she said.
A legal objection to the dismissal of last year's corruption cases was also rejected yesterday, and the cases were officially closed.
'Parallel State'
Erdogan said in a speech on Monday that the arrests of reporters, editors and columnists tied to the imam were not the violation of press freedom critics claim. He referred to them as "members of the parallel state" involved in espionage.
Calls and e-mails to the president's press office seeking comment were not answered yesterday.
Critics included the U.S. and EU, which Turkey has been trying to join for more than 20 years. European ministers warned Turkey that progress on its membership bid depends on respect for the rule of law and fundamental rights.
Fuat Avni isn't the first virtual foe to plague Erdogan.
In the months after the corruption charges, another account calling itself "Haramzadeler," roughly translated as "Beneficiaries of Sin," broadcast almost nightly recordings of what it said were ministers, government-linked businessmen and even Erdogan's family members engaging in embezzlement, corruption and various other forms of questionable behavior.
Erdogan lashed out at the leaks, calling them "montages," then saying the recordings were illegal.
Taunting Erdogan
The leaks from Fuat Avni are probably not from a single government insider and may show that the Turkish government is still vulnerable to digital surveillance, according to Aaron Stein, a associate fellow who studies Turkey at the London-based Royal United Services Institute.
"It's like an asymmetric war: the AKP is far more powerful, but they are fighting a decentralized insurgency," Stein said by e-mail. Rather than a single individual monitoring private government meetings, Fuat Avni is probably "a lot of people who rely on various ways to get info, including, I presume, wire taps or electronic surveillance of some sort."
In steps to evade illegal surveillance, Erdogan included a suite of bug-proof rooms in a new palace he built for himself at a cost of about $615 million, according to Turkish media reports.
The Fuat Avni account follows a distinctive style, with numbered lists detailing future arrests, while warning Erdogan personally with catchphrases including "don't be afraid. Tremble," and "you're among the losers." The account has built a following of more 673,000 followers.
The latest arrests won't be the last in Erdogan's offensive against the list of people he declares traitors and enemies of the state, Fuat Avni says. The account has warned that the list of those to be detained will rise to about 400. Fatma Demirelli, a managing editor at English-language daily Today's Zaman who was standing in the newsroom when Dumanli was led away, said it would be rash to bet against it.
"Nobody knows who he is, but he seems to be a reliable source," she said. "Everything he says turns out to be true."
Before it's here, it's on the Bloomberg Terminal.
LEARN MORE