China to Its 'Naked Officials': Bring Back Your Families From Abroad or Face Demotion
By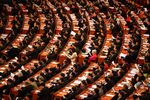 No more promotions or senior-level positions for China's "naked officials," Chinese authorities have announced.
Naked officials are those government servants who have family members abroad. Some 1,000 such officials, who hold important positions and whose families have refused to return, have been demoted, according to an announcement on Monday by the Organization Department of the Central Committee of the Communist Party. In total, China has some 3,200 "naked officials" at the county level and above "who have sent their families abroad, often as a conduit transferring their ill-gotten assets abroad, and in preparation for their own flight," the Xinhua News Agency reported yesterday.
Those with families overseas will also be banned from working in "important and sensitive" positions, the party statement from Monday said, including employment in military, diplomatic, and national security areas. They are "a high risk group; likely [to] be stealing sizable amounts and—once they make their getaway—difficult to track down," according to the Xinhua report.
Personnel departments have met with officials, asking them to choose between having their relatives return or being demoted. Those who didn't cooperate were "disciplined" and will be monitored on "a regular basis in the future," Xinhua said.
In July, China's public security bureau launched "Operation Fox Hunt," a campaign to bring back those officials who have fled overseas. Already some 400 officials involved in economic crimes are back in China, with many returning voluntarily, under a promise they would be shown leniency if they turned themselves in before Dec. 1, reported Xinhua on Dec. 5.
From 2003 through 2012, $1.25 trillion of illicit funds were spirited out of China, more than any other country in the world, estimates Washington-based nonprofit Global Financial Integrity. China also had the largest illicit outflow in 2012, with $249.57 billion leaving in just one year.
Before it's here, it's on the Bloomberg Terminal.
LEARN MORE