Bush's Foundation Offers Preview of Big Donors to Tap for 2016 Bid
The former Florida governor has kept his fundraising skills finely tuned during his seven years out of office.
Julie Bykowicz and Annie Linskey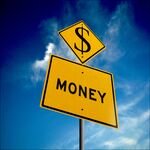 Jeb Bush hasn't raised political money in a decade, but his education foundation shows he's still wired to the some of the nation's wealthiest partisan donors.
In just five years, he built his Foundation for Excellence in Education from a $244,000 start-up to a $10 million operation, tax documents show. His roster of donors, which the foundation makes public on its website, provides a preview of the people he's likely to court if he runs for the presidency—and how quickly he could move ahead of any potential primary rivals when he opens a "leadership PAC" in January. Bush will use that account to "explore" the idea of running in 2016, he said in a Facebook post Tuesday.
The 2013 list of foundation underwriters includes organizations aligned with Republican megadonors Paul Singer, Charles Schwab, the DeVos brothers and the Walton family, the founders of Wal-Mart Stores Inc. Going back another year, more notable GOP names emerge, including Julian Robertson, chief executive officer for Tiger Management Advisors.
Singer, a hedge-fund billionaire, was one of the most active check-writers in the just-concluded 2014 elections. He gave $2.4 million to Ending Spending Action Fund, a super-PAC that worked to elect Republicans to the Senate. And Robertson was a key part of a super-PAC dedicated to 2012 Republican contender Mitt Romney, providing it more than $2 million. Amway co-founder Richard DeVos, another billionaire, has been one of the top Republican donors in Michigan for decades. 
The Foundation for Excellence in Education, headquartered in Tallahassee, Fla., has been a strong advocate of charter schools and Common Core, and it provides state lawmakers "model legislation" to help those policies spread across the country. 
Rupert Murdoch's News Corp. is an annual donor to the education foundation. Murdoch's contributions favor Republican candidates, but he wrote a check to Hillary Clinton's campaign in 2006. Bloomberg Philanthropies, the charitable vehicle for Michael Bloomberg, is a repeat donor to Bush's foundation. Michael Bloomberg, founder and majority owner of Bloomberg Politics parent company Bloomberg LP, is a top political donor, mostly to Democratic causes.
There's also telling overlap between the business donors for the Bush foundation and the behemoth Clinton Foundation, including the Bill and Melinda Gates Foundation, Microsoft, Intel, ExxonMobil and the Walton Family Foundation. If she enters the 2016 contest, Clinton would be the Democrats' establishment favorite—a title Bush might also like to lock down within his own party.