Billionaire Icahn Stands to Lose $286 Million on Talisman Deal
Doug Alexander and Beth Jinks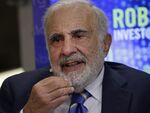 Billionaire Carl Icahn stands to lose about $286 million on his investment in Talisman Energy Inc. following the company's sale to Repsol SA for $8.3 billion.
Icahn, the second-largest shareholder in Canadian oil and gas producer Talisman, paid about $894.5 million in aggregate for 76 million shares, according to a regulatory filing last December. Spanish energy company Repsol said today it agreed to buy Calgary-based Talisman for $8 a share, valuing Icahn's stake at $608.5 million.
Repsol revived talks with Talisman this month after walking away from negotiations in August. Icahn, with two board seats, saw the Calgary-based company's shares plunge 55 percent from Oct. 7, 2013, when he announced his stake, through Dec. 15, the day before the Repsol deal was announced.
The shares faltered along with oil prices. U.S. crude has plunged 48 percent from this year's June 20 high, amid rising supplies and a battle for market share between the U.S. and Organization of Petroleum Exporting Countries. The slump in crude oil drove the Canadian explorer's stock below C$5 ($4.30) for the first time in 14 years.
Icahn, 78, in recent years has invested in U.S. companies including Herbalife Ltd., EBay Inc. and Apple Inc. His net worth has dropped by about $778 million this year, according to the Bloomberg Billionaires Index, to $22 billion. Icahn, who became an activist investor after gaining fame as a corporate raider in the 1980s, generally takes large stakes in publicly traded companies and agitates for shareholder-friendly changes.
Boosting Reserves
Repsol, Spain's largest energy company, said today it agreed to buy Talisman, ending a months-long search for acquisitions to help boost crude reserves and production.
The Talisman deal will increase Repsol's reserves by 55 percent and production by 76 percent, the Madrid-based company said in a regulatory filing. Talisman, which has operations spanning six continents, is focused on the Americas and Southeast Asia.
The deal requires the approval of Talisman shareholders. Icahn's representatives on Talisman's board support the offer, Repsol Chairman Antonio Brufau told reporters in Madrid today.
Icahn declined to comment on the change in value of his Talisman stake.
Before it's here, it's on the Bloomberg Terminal.
LEARN MORE