Al Franken is Ready for Hillary Clinton, Too
The Minnesota senator joins several colleagues who support Clinton, even though she hasn't formally announced her campaign.
By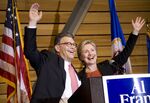 The Hillary Clinton train just picked up another passenger. Senator Al Franken said Tuesday that he is "ready for Hillary." 
In an interview on MSNBC's "The Cycle," Franken explained why he was publicly backing Clinton over progressive favorite Elizabeth Warren. 
"I think that I'm ready for Hillary," Franken said. "I mean, I think that we've not had someone this experienced, this tough, and she's very, very impressive. People have asked me about Elizabeth Warren. She is great, but she's not running. She says she's not running. So I don't—I think Hillary would be great."
Franken, who was joined by both Clinton and Warren on the campaign trail this year, joins more than 60 members of Congress who have pledged their support to Clinton. Among the Senate Democrats that have taken sides, even though Clinton herself has not formally declared she is running for president, are California Senators Barbara Boxer and Dianne Feinstein, Missouri Senator Claire McCaskill, New York Senator Kirsten Gillibrand, and, yes, Senator Warren, the Hill reports. 
Of course, the thing about prospective endorsements of candidates yet to actually hop into the race is that they are subject to revision.  "I think, I certainly feel I haven't announced that I'm supporting her, but does this count? I guess, maybe this counts," Franken said of his support for Clinton. 
With every big-name Democrat who voices support for a Clinton candidacy, Warren's prospects for an unlikely presidential run seem that much more unlikely.