World's Largest River Diversion Project Now Pipes Water to Beijing
Christina Larson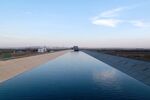 On Friday, Dec. 12, for the first time, Beijing residents who turned on their faucets to rinse vegetables or take showers may have been using water piped to the arid capital from distant Hubei province. The middle leg of China's ambitious and controversial South to North Water Project—the world's largest water transfer project ever—has just opened.
The water transfer scheme, first envisioned by Chairman Mao, is an engineering solution to an ecological discrepancy: China's population is concentrated in the county's relatively dry northern provinces, while water flows more plentifully in the south. Moreover, China has a fifth of the planet's population but only 7 percent of its freshwater resources.
The leg of the project that opened Friday, according to state-run Global Times, is a series of canals stretching 890 miles across northeastern China that will annually transport an estimated 9.5 billion cubic meters of water from central China to major cities on the north China plain, including Beijing and Tianjin.
If and when the final western leg of the project is completed, the canal system will reroute roughly 45 billion cubic meters of water annually across the country. (Alarmed Chinese geologists have raised questions about the costs and feasibility of drilling tunnels through western mountains to build aqueducts.) Construction costs for the first two legs have already reached nearly $80 billion.
Scientists have raised many concerns about the potential unintended impacts of remaking China's river geography, but we won't see the full consequences for years. Top worries include the unknown effects on regional ecosystems; the impacts from climate change (with altered weather patterns, will there even be enough water available to be transferred?); and the extent of pollution in China's rivers (will adequate steps be taken to ensure the water quality in city faucets?).
India's Prime Minister Narendra Modi may be watching to see how China's experiment fares. His government appears to reviving an old plan for its own National River Linking Project, a massive 9,320-mile scheme to redirect rivers to India's parched agricultural lands. While the plan has languished on drawing boards for years, Modi approved construction of the first link in July. Whether India could actually pull off such a vast engineering feat—and whether it's scientifically advisable—remains to be seen.
Before it's here, it's on the Bloomberg Terminal.
LEARN MORE