Spiraling Rents in Munich Mean Bonus to Attract Teachers:
Elisabeth Behrmann, Oliver Suess and Alex Webb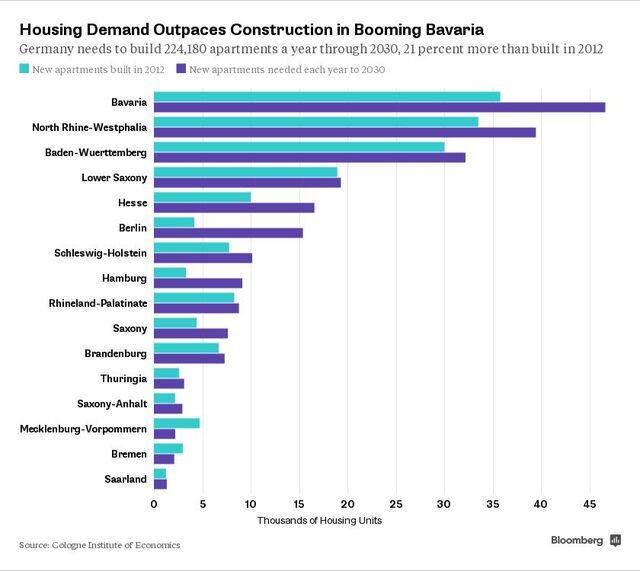 Munich's Herz-Jesu kindergarten needed nine months and 9,000 euros ($11,200) of ads to find a new teacher. In the meantime, it cut opening hours and relied on a 74-year-old nun to keep running.
As Germany's fastest-growing city makes good on a pledge to build 62 daycare facilities, it's struggling to fill them with staff, who are having a tough time paying spiraling rents.
The shortage of preschool places, along with housing, is among the costs Muencheners are paying for a boom that has made their city the country's most expensive. An attempt to ease the bottleneck by offering childcare workers a 200 euro-a-month supplement backfired: Thousands more city employees demanded similar payments, which officials have rejected as too costly.
"Rental prices in Munich are way more expensive than what you would expect," said Rudiger Ahrend, head of the Organization for Economic Cooperation and Development's urban policy unit. "That is a problem for many professions that are very important but are not very well paid. That's not just kindergarten teachers, but other civil servants too."
While it costs more to live in bigger cities, that's balanced out by higher wages, according to an October OECD study. In some, such as London, San Francisco and Washington, wages are higher than justified by the city's productivity, the study showed. Though compensation in Munich is generally in line with the city's size and output, the living costs are relatively higher there than anywhere else in Germany.
New Facilities
There's not much officials say they can do. Increasing all civil servants' pay "would mean more like 100 million euros and that's money the city doesn't have," said Thomas Boehle, personnel manager for Munich city council. "Munich has invested a lot in opening new facilities, yet we still aren't able to fill all the positions for childcare workers."
With 1.4 million people, Munich is Germany's third-largest city behind Berlin and Hamburg. The metropolitan area's population is set to grow 24 percent to 3.25 million by 2030, the Cologne Institute of Economics estimates. That compares with 15 percent in Berlin and 11 percent in Frankfurt.
Popular for its vibrant economy, mild summer climate and proximity to the Alps, Munich also benefits from immigration that has brought an influx of skilled workers from southern Europe. Its immigrant population, 25 percent of the total, is among the highest in Germany, according to Mayor Dieter Reiter.
Immigration Surge
Home to insurer Allianz SE, engineering giant Siemens AG and luxury carmaker Bayerische Motoren Werke AG, Munich has the best standard of living in Germany and fourth-best globally, according to a February study of 223 cities by Mercer LLC.
It also has Germany's highest rents, almost double the level in eastern Berlin, according to F+B, a Hamburg-based property company. Rent on a 60 square-meter to 80 square-meter Munich apartment has climbed 29 percent since 2009 to an average 1,156 euros a month.
That compares with the 1,814 euros a month after taxes that a newly trained kindergarten teacher can expect, a wage that tops out at 3,264 euros for managers of larger daycare facilities.
The city unveiled a 4.6 billion-euro investment program in October that includes 1.2 billion euros for schools and childcare and 637 million euros to build new apartments.
They can't come fast enough. The last of the new slots won't open up until 2018, according to the investment plan.
Since applications are sorted on a first-come, first-served basis, expectant parents often seek places, says Moritz Mungenast, 40, a father of two. He and his wife put their names down for about 45 facilities before their children, now two years and five years, were born.
'Screaming' for Kids
"Germany is screaming for more children apparently, but society and government in general also make it unnecessarily difficult," he said.
Germany's birth rate has dropped to half of its peak 50 years ago. At 8.4 births per 1,000 people, it's the second-lowest in Europe after Monaco, according to a Central Intelligence Agency estimate. It also has the European Union's oldest population with a median age of 45, a Federal Institute for Population Research report in November 2013 showed.
New buildings are going up far too slowly, lagging about 40 percent behind what's needed, according to a Nov. 17 report by the Global Cities Initiative, a joint project of the Brookings Institution and JP Morgan Chase & Co. House prices are unaffordable for young professionals and lower-income workers, the authors wrote.
"The long-term solutions are probably not simply to increase people's pay but to ensure that enough affordable housing is built," said OECD's Ahrend.
That spells little relief for the Herz-Jesu kindergarten.
"The most effective factor in relieving the pressure would be affordable living space," said Wolfgang Stoecker, the kindergarten's administrative head. "Two of our staff have part-time jobs to make ends meet."
Before it's here, it's on the Bloomberg Terminal.
LEARN MORE