Russia Takes Ukraine's Spot in Currency Abyss: Chart of the Day
Zahra Hankir and Natasha Doff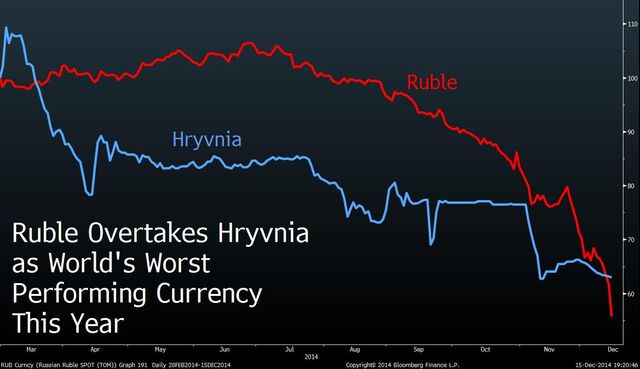 After annexing Crimea and backing a separatist war in Ukraine, Russia is showing it's more vulnerable than its neighbor on the currency front.
The CHART OF THE DAY shows the Russian currency extended its plunge this year to 49 percent, overtaking a 48 percent drop in Ukraine's hryvnia. The ruble is falling faster as a slump in oil and sanctions by the U.S. and the European Union push the economy of the world's largest energy exporter toward a recession. The losses by the two currencies are the biggest among more than 150 peers tracked by Bloomberg.
"Russia is in the middle of a perfect storm with the combined impact of Western sanctions and the very sharp negative oil shock," Tatiana Orlova, the chief economist for Russia at the Royal Bank of Scotland Group Plc in London, said by phone yesterday. "Most of the hryvnia weakening has already happened. Ukraine is an energy importer and Russia is an energy exporter," making Russia vulnerable to oil prices, she said.
More than $80 billion of currency interventions and five interest rate increases this year have failed to arrest the slide in the ruble, which tumbled past 60 for the first time yesterday. It lost 9.7 percent to 64.4455 a dollar, the most since Russia defaulted on local debt in 1998. The economy is set to shrink 0.8 percent in 2015, the government said this month, in what would be its first recession since 2009.
Ukraine's economy is already worse off. The country is seeking at least $10 billion in aid from the U.S. and the EU to stave off a default as its gross domestic product shrinks under the strain of spending cuts and the rebellion. The hryvnia dropped to 15.81 today.
Before it's here, it's on the Bloomberg Terminal.
LEARN MORE