Rupiah at '98 Low Defies Logic for Best Forecaster: Asean Credit
Liau Y-Sing and Yumi Teso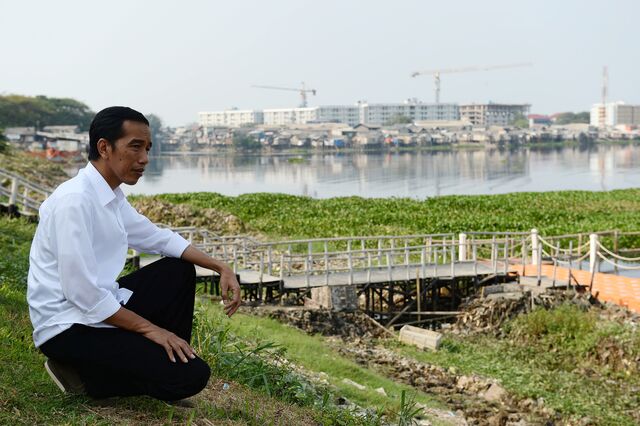 The last time a dollar bought as many rupiah as it does now, Indonesian dictator Suharto had just been ousted and the government was paying 70 percent to borrow money for a month after an International Monetary Fund bailout.
Sixteen years later, the country pays less than a 10th of that for three-month bills, it is rated six levels higher by Moody's Investors Service and has a new president elected on the basis of his administration of Jakarta. Geoffrey Kendrick, Morgan Stanley's Hong Kong-based head of Asian foreign-exchange and interest-rate strategy and the most-accurate rupiah forecaster, said he didn't "have any logic to apply" to the sudden drop and is sticking for now to his end-March estimate of 12,400 per dollar, stronger than yesterday's close of 12,698.
The rupiah has fallen 3.7 percent this month, the most in Asia, and is now at a weaker level than all but one of 30 analyst forecasts for the end of the first quarter of 2015. It was up 0.3 percent to 12,660 per dollar as of 2:59 p.m. in Jakarta, according to prices from local banks, after the central bank intervened to stem its slide. That came after a 1.9 percent slump yesterday to the lowest close since the 1998 Asian financial crisis.
"There was no specific domestic news that caused the currency move, just a combination of very thin liquidity and general negative sentiment toward emerging-market currencies," Khoon Goh, a Singapore-based senior foreign-exchange strategist at Australia & New Zealand Banking Group Ltd., the third-most accurate forecaster, said in an e-mail interview yesterday. "Given that the rupiah has held up reasonably well compared with other Asian currencies in recent weeks, it appears to be trying to play catch up."
'Panic Buying'
Before it dropped 2.8 percent in the two days through yesterday, the rupiah had weakened 1.2 percent in the month through Dec. 11, compared with declines of 4.1 percent in Malaysia's ringgit and 1.7 percent for Taiwan's dollar.
Overseas investors have pulled 10.2 trillion rupiah ($804 million) from local sovereign bonds this month through Dec. 12 as the prospect of U.S. interest-rate increases damped demand for emerging-market assets. They have sold a net $243 million of local shares in December through yesterday.
While Goh said that ANZ's end-March prediction of 12,250 per dollar is under review, he said yesterday's move was orderly and was probably just "market positioning." The ruble's 9.7 percent plunge yesterday has "spilled over into Asian currencies," Goh said in a separate interview today.
Bank Indonesia attributed yesterday's move to "panic buying" of dollars by local companies before the Federal Open Market Committee starts a two-day meeting today at which U.S. interest-rate increases will be discussed. Investors are worried about the country being "strong enough" if the current-account deficit remains high, Peter Jacobs, a central bank director in Jakarta, said in an interview yesterday.
Commodity Prices
Indonesia recorded a shortfall of $6.8 billion in the broadest measure of trade in the third quarter, and the monetary authority expects a $24 billion deficit for the full year. Southeast Asia's largest economy will expand 5.1 percent in 2014, the slowest pace since 2009, according to the median estimate of analysts in a Bloomberg survey.
Inflation accelerated to 6.23 percent in November as President Joko Widodo raised the price of subsidized fuel less than a month after taking office, and the central bank sees it reaching 7.7 percent to 8.1 percent by year-end.
As Indonesia is a net oil importer, Brent crude's 37 percent drop this quarter should be positive for the rupiah. However, the prices of some of the country's key commodity exports have also fallen, with palm oil down 5.4 percent over the period and coal retreating 5.8 percent.
Slowdown Path
"Growth is clearly on a path of slowdown and there is inflation concern," Masashi Murata, a Tokyo-based currency strategist at Brown Brothers Harriman & Co, said in an interview yesterday. "There's also some speculation Bank Indonesia is shifting its focus to keep the rupiah's volatility stable rather than defending a certain level."
Bank Indonesia is intervening today to stabilize the rupiah and is also buying government bonds in the secondary market, Deputy Governor Perry Warjiyo told reporters at a press conference in Jakarta. The monetary authority bought 200 billion rupiah of debt today and 1.5 trillion rupiah yesterday, he said.
The yield on Indonesia's 10-year government notes rose four basis points to 8.49 percent today after surging 43 basis points in the previous two sessions, according to the Inter Dealer Market Association. That took the advance this month to 79 basis points, compared with increases of 37 basis points for similar-maturity Malaysian debt and 25 basis points, or 0.25 percentage point, for Philippine securities.
Year-End Effect
PT Mandiri Sekuritas, a unit of Indonesia's biggest lender by assets, will probably revise its year-end forecast for the 10-year sovereign bond yield upwards, Handy Yunianto, head of fixed-income and research in Jakarta, said in an interview yesterday.
"I don't see any significant news coming in the near term," he said. "But probably inflation will be slightly higher than market consensus expectations."
The rupiah is weakening on a "combination of a stronger dollar globally and higher demand for dollars in the domestic market for imports and interest-debt payments," Finance Minister Bambang Brodjonegoro said yesterday in a mobile-phone text message. Local companies typically need to buy more U.S. currency before the end of the year.
"People who haven't got their dollars need to square up their books," Jonathan Cavenagh, a currency strategist at Westpac Banking Corp. in Singapore, said in an interview yesterday. And "the general tone in markets is more risk averse," he said.
'Illogical Moves'
Investors withdrew more than $2.5 billion from U.S. exchange-traded funds that buy emerging-market stocks and bonds last week, the biggest outflow since January. While the rupiah has fallen the most in Asia this month, Brazil's real, South Africa's rand, Turkey's lira, the Mexican and Colombian pesos and Russia's ruble have all weakened more.
The monetary authority is guarding the rupiah and volatility should return to normal in January, Bank Indonesia's Jacobs said.
Outside of the current period of illiquidity, the fuel-price increase should mean imports will slow down a bit, Morgan Stanley's Kendrick said.
"Which should at least in theory be currency positive because the current account will probably improve slightly," he said."That assumes everything else equal. Clearly at the moment everything else is not equal and hence the reason we're getting illogical moves like these."
Before it's here, it's on the Bloomberg Terminal.
LEARN MORE