Rising Salaries Give Kuroda, Yellen and Carney Reasons to Smile
Rich Miller and Simon Kennedy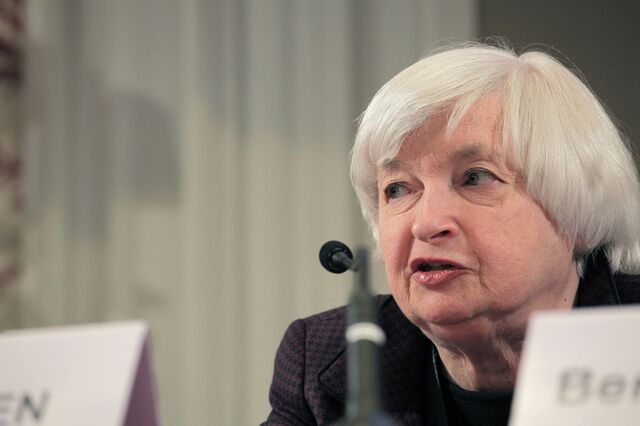 Bank of Japan Governor Haruhiko Kuroda is finally getting a pay raise -- and so, too, are a growing number of workers throughout the industrial world.
Wages are beginning to climb in the U.S., Japan, the U.K. and Germany as tightening job markets force employers to pay workers more. That's good news for households already benefiting from a steep fall in oil prices.
The raises aren't big -- Kuroda, for example, is getting a 1.3 percent bump -- and labor has a long way to go to get back to where it was before the U.S. recession hit at the end of 2007. Yet the increases are a welcome sign for policy makers that the world economy is on the mend and primed for potentially faster growth.
"It's a very desirable development," said Peter Hooper, chief economist for Deutsche Bank Securities Inc. in New York and a former Federal Reserve official. "It's what the central bankers want to see."
The bigger pay checks will help lift output as workers spend the extra money they're getting -- and falling energy prices reinforce their purchasing power. Global gross domestic product will rise 3.5 percent in 2015 after expanding 3.2 percent this year, according to the median forecast of 38 economists surveyed by Bloomberg News from December 5 to 10.
"A pickup in pay should be supportive of a further acceleration in consumption," said Neville Hill, co-head of global economics and strategy at Credit Suisse Group AG in London.
Faster Inflation
The stepped-up salaries eventually may lead to faster inflation as companies raise prices to make up for their increased labor costs. That's something central bankers including Kuroda will embrace rather than dread, given their determination to avoid deflationary slumps in their economies.
Fed Chair Janet Yellen and her colleagues will be taking a close look at what's happening to wages and inflation when they gather December 16 in Washington for their last two-day policy-making meeting of the year. Up for consideration: whether to drop their stated intention to hold short-term interest rates near zero for a "considerable time" after they ended their asset-purchase program in October.
The last increase for the benchmark federal funds rate came in 2006.
In Japan, Kuroda and Prime Minister Shinzo Abe -- who won a sweeping victory in elections Dec. 14 -- have been urging companies for months to boost wages, arguing that such action is needed to break the country's decades-long economic funk. Kuroda's pay increase, to 34.7 million yen ($294,000), was the first for a BOJ governor in nine years.
Central-Bank Lead
There are signs that businesses are starting to follow the central bank's example. Base salaries rose 0.4 percent in October from a year earlier, a fifth consecutive increase, based on data from the Ministry of Health, Labor and Welfare.
Large companies are set to boost winter bonuses by an average 5.8 percent this year, the most since 2008, after lifting summer payouts by 7.2 percent, according to preliminary results from a survey by the Keidanren business lobby group.
Behind the budding wage pressures is a taut job market, with Japan's shrinking and aging population causing the worst shortfall in two decades. The unemployment rate, at 3.5 percent in October, matches the lowest since 1997, and there were 1.1 positions available for every applicant.
"It's a structural change, so the labor shortage will continue for a long time," said Minoru Nogimori, an economist at Nomura Holdings Inc. in Tokyo. It is "producing conditions where prices tend to rise. It's an ideal situation for the BOJ as it aims for 2 percent inflation."
Worker Shortage
The job market is super tight even though Japan has been in a recession, with GDP contracting the past two quarters, noted Jonas Prising, chief executive officer of ManpowerGroup. He said the Milwaukee, Wisconsin-based staffing company is having trouble finding the workers its Japanese clients want.
Labor income as a share of the economy has fallen significantly over the past few decades in a wide range of countries, including the U.S., Japan and Germany, according to research published last year by University of Chicago economists Loukas Karabarbounis and Brent Neiman. They attributed much of the drop to declining prices for computers and other capital goods, which induced companies to replace workers with machines.
Other researchers, including Fed economists Bart Hobijn and Aysegül Sahin, trace the fall in the U.S. more to globalization, in particular the expansion of supply chains outside America.
Falling Prices
Both those forces may be waning. The relentless decline in computing costs has slowed, lessening the attractiveness of information-technology equipment to corporate purchasers. Computer and peripheral equipment prices have fallen by a cumulative 6.7 percent during the past three years, after dropping by more than two-thirds in the previous decade, according to data from the Commerce Department in Washington.
World trade growth also has slackened to about 3 percent in each of the past two years, compared with an annual average of 7.3 percent in 2000 through 2010, data from the International Monetary Fund in Washington show. Deutsche Bank's Hooper said the creation of global supply chains seems to have plateaued, while global talks to liberalize trade have floundered.
Cyclical forces are starting to work in labor's favor as well. At 5.8 percent in November, the U.S. jobless rate is closing in on the 5.2 percent to 5.5 percent range most Fed policy makers reckon is the equivalent of full employment.
"We're very close to the tipping point," Prising said. "I don't see a rapid acceleration, but I do think we'll start to see some upwards movement" in wage growth.
Largest Increase
That already may be happening. As measured by the Labor Department's employment-cost index, wages and salaries rose 0.8 percent in the third quarter -- an increase that hasn't been exceeded since the first three months of 2007.
Ellen Zentner, senior U.S. economist for Morgan Stanley in New York, sees wages rising around 2.5 percent next year, after increasing 2 percent this year, lifting consumer spending and the economy.
Yellen has made no secret of her desire to see compensation rise at a faster clip, telling reporters on March 19 that increases of 3 percent to 4 percent "would be normal" and consistent with the Fed's 2 percent inflation target.
The pick-up in salary growth will allow policy makers to begin raising short-term interest rates in June after holding them effectively at zero since December 2008, Deutsche Bank's Hooper said. The U.S. central bank "won't need to have its foot on the accelerator quite so heavily," he added.
BOE Policy
The story is much the same in the U.K., with the Bank of England expected to begin tightening policy next August, according to Philip Shaw, chief economist at Investec Securities Ltd. in London.
BOE Governor Mark Carney said last month that officials are "seeing the first tentative signs of the long-awaited pickup in wage growth." He predicted real incomes "will be further supported" by lower energy and food prices.
U.K. average weekly earnings excluding bonuses grew faster than inflation in the third quarter for the first time in five years, advancing 1.3 percent from the previous year. The minimum wage was lifted 3 percent in October to 6.50 pounds ($10.23) an hour.
Meantime, Germany is introducing a minimum wage of 8.50 euros ($10.60) an hour in January. That, along with higher pay increases, should bolster effective wages by about 3.5 percent next year, according to Morgan Stanley.
Inflation-Loathing Bundesbank
Such a jump may be welcomed even by the inflation-loathing Bundesbank, whose president, Jens Weidmann, has praised wage growth this year and said it reflects a tighter labor market. The hope is that if Germans spend more, it will help boost the economies of neighboring nations where wages still are under pressure.
"With most of Germany enjoying virtual full employment, German wages are rising nicely," said Holger Schmieding, chief economist at Berenberg Bank. "Workers are reaping the rewards of their previous wage restraint."
The increases across advanced nations are "a welcome step forward," said Joseph Lupton, an economist at JPMorgan Chase & Co. They're a sign the world economy is "getting back to some sense of normalcy."
Before it's here, it's on the Bloomberg Terminal.
LEARN MORE