Obama, Christie Share a Private Chat at New Jersey Base
Angela Greiling Keane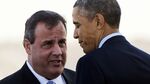 President Barack Obama gave a Republican who may try to succeed him a quick "bro hug" and about 90 seconds of private conversation when New Jersey Governor Chris Christie welcomed him to the state yesterday.
As governor, Christie was the first person to greet Obama when he arrived via Air Force One at Joint Base McGuire-Dix-Lakehurst near Trenton. With their right hands clasped in a handshake, Obama reached his left arm around Christie's back in greeting the governor, who drew some criticism from fellow Republicans for praising the White House response to Hurricane Sandy before the 2012 presidential vote.
Obama was in New Jersey to offer holiday greetings to the U.S. military personnel there. Before he arrived at the podium inside a hangar, Obama met Christie on the tarmac next to Air Force One.
"This sort of illustrates that, this time of year, that it's pretty easy to be bipartisan when talking about supporting men and women in uniform and their families," White House press secretary Josh Earnest told reporters aboard the flight from Washington. "If it's not easy, it should be."
Obama in his speech recalled traveling to the New Jersey shore last year and playing games on the boardwalk with Christie, a year after it was hit by Hurricane Sandy in 2012.
Hurricane Sandy
"I will get a rematch at some point," he said about being beaten in carnival games by the Christie family. "We came because, after Hurricane Sandy, people here in New Jersey including here at this base had to pick themselves up and rebuild."
Obama turned to the wars overseas, including the fight against Islamic State in Iraq and Syria. He said the radical group has been put "on the defensive" because of the U.S. military's sacrifice.
"We're free and safe and secure over here because you're willing to serve over there," he said. "That's the noble spirit of your sacrifice. That's the selfless character of our military. Those are the precious gifts that you give America, not just at this time of year, but all year every year."
Politically, Obama and Christie have clashed including over whether to build a tunnel into New York from New Jersey and on whether to allow the Keystone pipeline to be built in the U.S. Yet the pair has an outwardly gregarious relationship in matters of federal-state cooperation, which has drawn the ire of some Republicans.
The White House didn't provide any readout of their tarmac conversation.
Before it's here, it's on the Bloomberg Terminal.
LEARN MORE