The Rise of 'Undernews' You Should Never, Ever Use
When Republican candidates embrace less-than-credible news stories.
By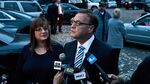 Charles C. Johnson's media tour continued this morning with a profile by New York Times media reporter David Carr, splashed on the front of the newspaper's business section. (That's the norm for Carr's column.) The blogger/researcher's response to the profile was standard; first, gloating about the publicity he was getting, then offering $50 for Carr's mugshot.