ING Seeks Disruption as Chief Hamers Plots Digital Growth
Maud van Gaal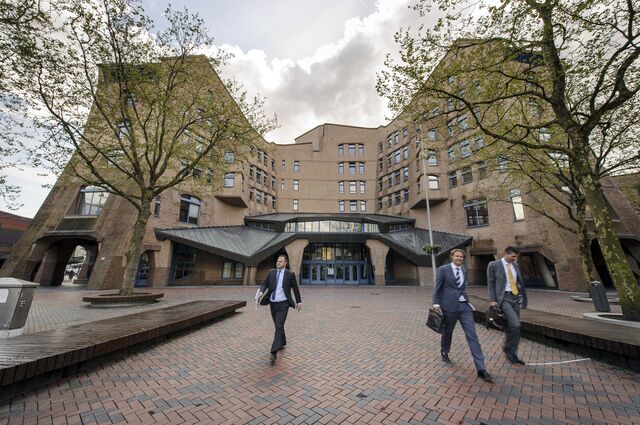 Dining with leaders of five Silicon Valley startups, ING Groep NV Chief Executive Officer Ralph Hamers asked how they planned to grow into competitors of large banks. To his surprise, they turned to him for advice.
"They said, 'that's exactly the question we wanted to ask you, because ING is the only global institution that has ever done that,'" Hamers said in an interview in Amsterdam, recounting a meeting he had last year. "So somewhere in us, we have it, the ability to disrupt" by using technology to win market share, he said.
The biggest Dutch financial firm built an online-banking division called ING Direct in the late 1990s, and expanded it to nine countries with more than 20 million customers by 2007. A year later, the global credit crunch forced ING into a government rescue. Since then, the company has undergone a transformation, hiving off insurance operations from Brazil to Thailand and ING Direct units in the U.S., Britain and Canada to help pay back the 10 billion-euro ($12.5 billion) bailout.
Now the former giant risks becoming an international also-ran unless Hamers, a 48-year-old who spent almost his entire career at ING, can plot a course for growth. Faltering economies and record-low interest rates in the euro area increase the challenge. The execution of its online and mobile-banking strategy is crucial, Hamers said in an interview in his office last week. ING gets about 60 percent of its earnings from the Netherlands, Belgium and Germany.
Wings 'Clipped'
"The wings they had spread out over the world have been effectively clipped," said Arnoud Boot, a professor of corporate finance and financial markets at the University of Amsterdam. "ING's strategy of growing their low-cost direct-banking operations does seem to fit in with their DNA. In that sense, it might work."
Hamers finished repaying the Netherlands last month for rescuing ING after its holdings of U.S. mortgage securities plunged in value during the global financial crisis. That cleared the way for the first dividend payments to investors since 2008. ING plans to hand over more than 40 percent of next year's profit to shareholders.
That prospect helped the stock advance by about 0.9 percent since the end of March, when Hamers presented his dividend plans and goals for the business. The Euro Stoxx Banks Index dropped 16 percent in the period. The bank's shares were 0.4 percent lower as of 11:30 a.m. in Amsterdam today.
ING's market value has risen to about 40 billion euros, surpassing Deutsche Bank AG, Germany's largest bank, and Credit Suisse Group AG, the second-biggest Swiss lender.
ING "is in a continuous process of selling non-core assets and has been very stringent in controlling costs, in integrating businesses and focusing on what it does best," said Guy de Blonay, who manages about 455 million pounds ($712 million), including ING shares, at Jupiter Asset Management Ltd. in London. "I expect the second leg of the story to be one where there is a focus on growth and delivering rising dividends."
No Acquisitions
Bulking up through acquisitions isn't part of the plan, according to Hamers, even when restrictions on takeovers tied to its bailout expire. Hamers said the bank can grow internally, pointing to Germany, where its ING-DiBa AG unit has a retail market share of 6 percent, the third largest among closely held lenders, and the lowest costs relative to income.
"If you truly understand technology and can apply it, you don't need to be a 15 percent-market-share player in order to be efficient," said Hamers, who took the top job in October 2013.
In Germany, France, Italy and Spain, ING is investing in technology to offer services that don't require an expensive branch network. It's a field that's getting more crowded. Hello bank!, a mobile-banking business set up by BNP Paribas SA in 2013, has almost 800,000 clients in four countries, the Paris-based company said last week.
Russia Lending
In the Netherlands, ING is adapting to changing demands as more customers conduct banking through mobile-phone applications. Further changes could lead to more job reductions on top of 1,700 cuts announced last month, Hamers said.
ING lowered its costs to 55.5 percent of income in the first nine months of 2014 from more than 60 percent in 2011. Return on equity, a measure of profitability, stood at 11.4 percent, meeting a targeted range for 2017.
The bank increased lending by 15.8 billion euros in the first three quarters of 2014, in line with a goal of boosting loans by 4 percent a year.
In Russia, where U.S. and European sanctions over the Ukraine conflict are weighing on the economy, ING trimmed lending outstanding to 6.85 billion euros in the third quarter from 7.55 billion euros in March. While that will drop a bit further, ING doesn't plan to withdraw from Russia, where it has operated for more than 20 years, Hamers said.
'Steps Ahead'
ING was formed by the 1991 merger of insurer Nationale-Nederlanden, which traces its roots to 1845, and NMB Postbank Group, the first Dutch lender operating predominantly by telephone and mail. It expanded through purchases including Barings Bank in 1995. ING still owns a majority of its European insurer, NN Group NV, and a minority stake in Voya Financial Inc. in the U.S.
ING Direct, inspired by the Postbank model, started in Canada in 1997 and is still in six countries, including Germany, Australia and Spain. For some investors, the past offers some reassurances.
"I assume they are two steps ahead of others in technology and marketing," said Peter Braendle, who manages 500 million euros in European equities at Swisscanto Asset Management AG in Zurich. "Others are only just trying now to do similar things, which shows it's been heading in the right direction."
Before it's here, it's on the Bloomberg Terminal.
LEARN MORE