Hostages Held in Attack on Australia's Wall Street
By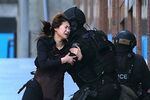 We're not sure yet about the identity or motivations of the gunman who took hostages in a Sydney cafe today and had them display a black banner emblazoned with the creed of Islam in the window. If Prime Minister Tony Abbott is correct in saying the siege is politically motivated, the attacker may have chosen the Lindt Chocolate Cafe as his target for its location.
Anyone involved in the world of finance in Australia knows Martin Place. Located in the center of downtown Sydney, Martin Place is a Down Under Wall Street. The Reserve Bank of Australia, the country's central bank, is just down the street from the cafe. So too is the main office of financial heavyweight Macquarie Group and the historic former headquarters of Commonwealth Bank. The Australian Stock Exchange, Westpac Bank, and the American consulate are all in the neighborhood, too. When Australian Treasurer Joe Hockey spoke to reporters today about his midyear fiscal review, he began by talking about events at Martin Place. That area, he said, is "something I'm very familiar with."
Just as Sept. 11, 2001, wasn't the first time terrorists went after the World Trade Center, this wouldn't be the first time the Sydney street has been targeted, either. "There have been targets against Martin Place before," David Malet, a senior lecturer in international relations and associate director for academic programs of the Melbourne School of Government at the University of Melbourne, told Bloomberg Television. In September, Abbott's government raised the country's terrorism alert to the highest level in a decade after police broke up an alleged plot to abduct and behead a random passerby on Martin Place, he said.
Australia is an American ally in the fight against Islamic State. There are 600 Australians—soldiers and air force personnel—at a U.S. base in the United Arab Emirates. Among Australia's nearly 500,000 Muslims, only a tiny number have become involved with Islamic State: About 185, according to Foreign Minister Julie Bishop in September. In October, lawmakers passed the Foreign Fighters Bill targeting Australian citizens who are supporters of Islamic State. According to the wording of the law, the legislation is an attempt "to respond to the threat posed by Australians engaging in, and returning home from, conflicts in foreign states." Australia isn't the only country in the South Pacific taking action against perceived terrorist threats. Just last week, New Zealand's parliament approved a new anti-terrorism law permitting video surveillance without a warrant.
Muslim leaders in Australia have unequivocally condemned the hostage-taking. "Such actions are denounced in part and in whole in Islam," the Grand Mufti, Ibrahim Abu Mohamed, and the Australian National Imams Council said today in a statement.