business
From YouTube's A-List to Hollywood's B-List
Benny and Rafi Fine, brothers from Brooklyn, built a new-media empire by posting videos on YouTube. Now old media is paying the Fine brothers to make network shows
By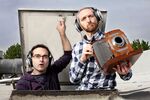 (Corrects the spelling of Benny Fine's first name throughout)
The line between Internet famous and plain old famous has blurred beyond recognition this year, with Nickelodeon becoming the latest old-media stalwart to snap up new-media talent. The children's network will on Monday air the first episode of ReactToThat, a TV show based on the steady stream of skits, sitcoms, and assorted silliness produced by two of YouTube's biggest stars, brothers from Brooklyn named Benny and Rafi Fine.
ReactToThat is basically Kids Say the Darndest Things for the YouTube generatio, with panels of children asked to weigh on on various cultural and social phenomena. The result is hilarity—and maybe a few life lessons for the rest of us. The Fines have been producing versions of this show for several years—past episodes have kids reacting to such things as Minecraft or the Harlem Shake and teens reacting to Nicki Minaj or bullying.
Millions of people have decided these videos are worth watching. As a result, the Fine Brothers now have ample opportunities to produce traditional media. In addition to the Nickelodeon show—their first foray into television—the brothers are working on a show for the Sundance Channel, as well as two feature-length films, one with Big Block Entertainment Group and the other with Fullscreen, one of the most prominent YouTube networks. The Fines continue to pump out videos for their own YouTube channel.
Their success has resulted in a strange sort of obscure celebrity. This spring at VidCon, YouTube's annual confab, the Fines had to hire security guards to clear their path through crowds of hyperventilating teenyboppers. A few weeks later, when they attended the daytime Emmys, reporters in attendance weren't nearly as impressed as VidCon's teenagers  had been, even though the brothers had been nominated for an award. "They literally put down their cameras when we walked on the red carpet," says Rafi.
The gala events of the future will probably play out a bit differently. Hollywood is paying increasing attention to artists who have already made names for themselves online, a reflection of just how big YouTube creators have become among young people. Kids now think YouTube's stars shine brighter than those of Hollywood celebrities, according to a survey of 1,500 teenagers conducted in July for Variety by Jeetendr Sehdev, a professor of marketing at the University of Southern California. He asked teens to score entertainers on sexiness, relatability, extraordinariness, and smarts—and the top five in the ranking had all risen to fame on YouTube. The Fines came in second, above elite mainstream celebrities such as Paul Walker and Jennifer Lawrence.
The fledgling crossovers from YouTube to the offline entertainment industry is also an acknowledgement of the difficult economics of Web video. There are many ways to gain a massive online following—Instagram, Vine, Twitter, and so forth—but only YouTube is trying to help its stars turn that attention into money. Google, which owns the video-sharing website, offers creators a revenue split on advertising that is sold against their videos. This provides sustenance to emerging stars such as the Fine Brothers without providing the financial clout to hop off the viral-video hamster wheel. "Despite the large success we've had, there is not the economics to make premium, long-form content without partnering with someone," says Benny Fine.
That's where the Hollywood money comes in, as my colleague Felix Gillette explained in a cover story for Bloomberg Businessweek. It's a model that reflects how the entertainment industry has always worked. Before the Internet, Hollywood minions scoured bars and clubs for singers and musicians to make famous. Go back farther to find that the raw material for what would become Hollywood tended to come from vaudeville stages. The entertainment industry provides resources, while fresh talent brings an appeal that office-bound executives can't reliably generate on their own.
The flirtation between entertainment moguls and YouTubers comes with a digital-age version of an old tension: the risk of losing outsider appeal. Much of the popular content on YouTube has a raw, homemade quality. Fans like it because the person onscreen feels like a person, not some automaton invented by an army of pros.
The career of the Fine Brothers tracks the history of online video. The seeds of their operation were planted during a radio phase in Benny's preadolescence in the 1990s. As a young orthodox Jew in Brooklyn's Flatbush section, he would carry around a tape recorder and conduct interviews. All of his bar mitzvah earnings went straight to equipment for his radio habit, but he soon discovered the family camcorder and abandoned the Edward Murrow schtick. Rafi quickly got on board, and by the time the brothers graduated high school they had made a handful of feature-length videos starring Star Wars and Thundercats action figures. At screenings they would put on for friends and family, Benny began making the first version of what would become the React videos, a Fine brothers staple on YouTube, by setting up a camera next to the screen to capture faces from the audience.
The Fine brothers figured the first step toward a career in film was the festival circuit; only after a discouraging attempt did they instead begin throwing videos onto a website. Their digital debut was posted in September 2004, a time when many computer users couldn't even reliably stream Web videos. Still, their shows attracted hundreds, then thousands, of viewers, and they developed a stable of serialized shows. The early efforts included a 12-episode mock reality-TV show called Garage Sale, which featured various items from the brothers' garage pleading not to be sold. Viewers would vote each week, and the loser would be listed on EBay—and was usually bought by a fan of the show.
YouTube was started in 2005, and the Fines soon saw it as more important than their own website. At first, YouTube wasn't offering any revenue split, so the brothers produced videos for existing media companies (for a pittance) while making their own videos as a hobby. They moved to Los Angeles and kept day jobs—Benny operated rides at Disney theme parks—before deciding in 2010 that they had enough money saved to get by for six months without taking other work. The brothers shot a batch of shows over a few bleary weekends in their apartment, and they haven't held "real" jobs since.
The Fines have been involved in pretty much every new way of funding content to run on YouTube. For a time they ran Maker Studios, one of the early multichannel networks that bundled YouTube videos into combined offerings that were intended to bring more attention to individual creators. When YouTube experimented with funding content directly, it paid the Fines to make two seasons of MyMusic, an online sitcom about a music production company that was accompanied by a plethora of fictional Twitter feeds, live concerts, and other interactive elements.
The Fine brothers now run a 20-person production company out of an actual office located on a charmless block in Burbank, just the sort of drab place in which traditional entertainment gets made. Benny and Rafi roam around in plaid shirts and Chuck Taylors, finishing one another's sentences while employees tap away on Final Cut Pro. As with any self-respecting startup, the company is bursting at the seams: The Fines moved in the spring; by August at least one employee was working from a desk in the hallway. A modest studio takes up one room, with a single camera, a few lights, and three separate backdrops for shows such as Kids React, Teens React, and Seniors React. This is a vast empire by YouTube standards. Many of the Fines' peers in online video are armed only with a camera, a laptop, and an Internet connection. Their footprint would seem to suggest that the duo makes a good living, but the brothers declined to discuss their income, beyond insisting that it falls short of the speculative numbers reported in the media.
The standard split of advertising revenue is 55 percent for the creators and 45 percent for YouTube, according to multiple accounts posted online; YouTube doesn't discuss the terms, and artists are forbidden from doing so. Advertising rates on YouTube shows vary widely and amount to significantly less than television.
Creators typically supplement advertising income with such things as merchandise sales. There are also ways to advertise on YouTube without having to split the cash at all. The most successful players now make more money from deals in which they hawk products to subscribers than they take in directly from YouTube. The Fine Brothers' main channel has almost 11 million subscribers, and a separate channel for their React shows draws 2.7 million. Businesses will pay good money to reach that many people. In May, AMC sponsored a video produced by the Fine brothers called Kids React to Old Computers, a way to promote a cable-TV drama about the birth of PCs called Halt and Catch Fire. That video by the Fines has been watched over 13 million times, more than 10 times the audience that tuned in to the TV show's inaugural episode.
Nickelodeon, with its new Fine Brothers show, adds to a growing crop of Internet video creators that have been harvested into big old-media machines. Epic Meal Time, a gluttonous stunt-cooking YouTube series, is producing a show for A+E's FYI Network. The YouTube-born car show /DRIVE started airing a 30-minute incarnation on NBC Sports Network this spring.
Los Angeles has no shortage of Rolodex-toting management companies chasing deals for YouTube stars. Andrew Graham, a talent manager at Big Frame talent agency, spends his days persuading mothers of 14-year old vloggers that their children can hit it rich while he moderates fights between corporate sponsors and YouTube stars about the font size for the branded hashtag in a video. Such tasks require professional expertise beyond the capabilities of individual artists. "You need the infrastructure that Hollywood brings," he says. "And that's because the dollars are here, and the relationships are here."
The Fines' show on Nickelodeon won't precisely resemble what appears online. The Fines mention a skit they've done in which 10-year-olds want to know if someone they're watching on television is on drugs. "That's not going to be on Nickelodeon," says Rafi. "And totally, like, that's great. That's their demo. That's what they've built as a brand and what they've created a whole universe around." Of course, ignoring those taboos is exactly how the Fines found success in the first place. Squeezing themselves into something acceptable for television runs the risk of stripping away their appeal.
The brothers think it's a line they can walk. Because of their large audience, the Fines have maintained significant control over the content they produce. But the Fines believe this sort of independence will be soon harder to come by for creators who follow them from online platforms into Hollywood. "Traditional is going to come over. And they're going to dominate in various ways," Rafi says. "It's going to siphon off a lot of the success that people are having right now."
(Updates previous version of this story to correct spelling of Benny Fine's first name.)
Before it's here, it's on the Bloomberg Terminal.
LEARN MORE