Sydney Siege Gunman Wasn't on Terrorism Watchlists, Abbott Says
Jason Scott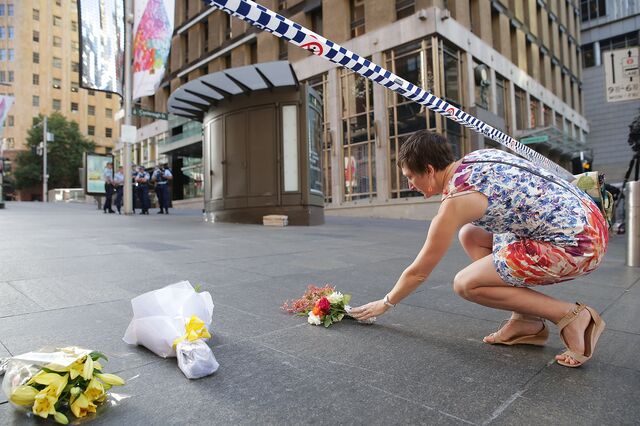 The gunman responsible for the Sydney siege that ended in three deaths wasn't on police or intelligence anti-terrorism watchlists despite having a long "infatuation" with extremism, Prime Minister Tony Abbott said.
"That is the question that we were asking ourselves around the National Security Committee of Cabinet today: How can someone who has had such a long and checkered history not be on the appropriate watchlists and how can someone like that be entirely at large and in the community?" Abbott told reporters in Sydney. The attack may still have occurred had the gunman been on such a list, he said.
Since winning power 15 months ago, Abbott's government has warned of the increased threat from supporters of Islamic State, or ISIS, and in September raised the terrorism alert to the highest level in a decade. In the incident that Abbott has described as a terrorist attack, the gunman Man Haron Monis, 50, forced hostages in the Sydney cafe to display a black Islamic flag known as the "Shahada" in the window.
The self-proclaimed Iranian cleric died along with two of his captives in the Lindt Chocolat Cafe in the early hours of Tuesday after a 16-hour siege that had locked down much of Sydney's business district. He had expressed his fury online over Australia's role in the war in Afghanistan.
Monis was free on bail awaiting trial on charges including being an accessory to the murder of his ex-wife and sexual offenses.
Security Risk
"This guy was clearly a risk, judging by his website and his criminal background, and it looked like he was trying to gain the attention of ISIS," said Anne Aly, who operates a counter-terrorism research program at Curtin University in Perth. "He was clearly highly unstable."
New South Wales Premier Mike Baird said the community in Sydney, the capital of the state, had "every right to feel upset" that Monis was at large.
"We're all outraged that this guy was on the street," Baird said today. "We need to understand why he was, we also need to understand why he wasn't picked up, and we'll be working closely with the federal authorities together with our own agencies to ensure what we can do better."
Abbott's Liberal-National coalition has passed counter-terrorism legislation designed to disrupt planned domestic attacks and support the international coalition to degrade ISIS in the Middle East. A survey by Newspoll in February showed 45 percent of voters said the coalition was the best to handle national security, ahead of the opposition Labor Party at 25 percent.
Abbott's coalition rose in the polls in September when media coverage was dominated by national security issues, including the government's diplomatic response to the July shooting down of Malaysian Airline System Bhd. Flight 17, which killed 298 people, including 38 Australians.
Beheading Plot
Also in September, police foiled an alleged plot by Islamic State supporters to abduct a member of the public in central Sydney and behead them, after carrying out the nation's largest anti-terrorism raids. An 18-year-old Melbourne man who had previously waved an ISIS flag in a shopping center was shot dead after stabbing two police officers.
The coalition's primary vote rose 2 percentage points to 41 percent in the Newspoll survey conducted Sept. 19-21 from a poll two weeks earlier, while 41 percent of voters said they were satisfied with Abbott's performance, up 6 points.
As voter concern over the government's economic management has mounted in subsequent months, the coalition's popularity has slipped. The latest poll conducted Dec. 12-14 shows the government's primary vote on 38 percent and Abbott's satisfaction rating at 33 percent.
Australia, a military ally of the U.S., is increasing defense spending after it fell to a seven-decade low. In May, it committed A$122.7 billion ($101 billion) to military spending in the four years through June 2018, A$9.6 billion more than that earmarked by the previous Labor government.
Bali Bombings
There has never been a major Islamic terrorist attack on Australian soil, although 88 Australians were killed in the 2002 bombings of bars on the Indonesian tourist island of Bali. Abbott has used press conferences this year to talk up the need for all sections of the community to be a part of "Team Australia" and describes Islamic State as a "death cult."
Australia's support for the U.S.-led offensive against Islamic State could increase the possibility of a terrorist attack in the nation, which couldn't afford to anger and alienate parts of the community, Gary Bouma, emeritus professor of sociology at Melbourne's Monash University, said in a September interview.
Disaffected Men
Waves of Middle Eastern migrants have seen Australia's Muslim population surge 69 percent in a decade, with security experts warning that disaffected young men facing fewer job prospects on the fringes of major cities are susceptible to Islamic State propaganda.
The number of Australians identifying themselves as Muslim rose from 281,600 in 2001 to 476,300 by 2011 -- about 2.2 percent of the population. Some Islamic families cluster on the outskirts of cities such as Sydney, Melbourne and Brisbane in traditionally working-class strongholds where manufacturing jobs are disappearing.
Abbott today described Monis as a "deeply disturbed person."
"I can't imagine that any sane person would want to emulate someone who had a long history of violence, including violence against loved ones, a long history of sexual assault, a long and incredibly erratic infatuation with extremism," he said. "There was nothing consistent about this individual's life except that he was consistently weird."
Before it's here, it's on the Bloomberg Terminal.
LEARN MORE