Congress's Undying (and Less Than Effective) ACORN Funding Ban
The infamous ACORN-defunding language is remembered by liberals, if no one else.
By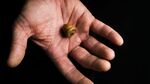 Every year since 2009, Congress has added language to must-pass spending bills that prohibits funds from ACORN. For the past four years, ACORN has not existed. Journalists James O'Keefe and Hannah Giles, who ran a hidden-camera sting of the community group, succeeded in killing it, which makes the annual "ban" a strange, vestigial bit of language that's largely just joke fodder for liberals.