Widodo Entices Yudhoyono to Safeguard Democracy: Southeast Asia
Neil Chatterjee and Untung Sumarwan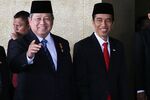 Indonesia's current and previous presidents have joined forces to save the country's local direct elections, fighting to safeguard the process that helped bring Joko Widodo to national prominence.
Former Solo mayor and Jakarta governor Widodo, known as Jokowi, met predecessor Susilo Bambang Yudhoyono last week to discuss how to preserve local voting in the world's-third largest democracy. A decree issued by Yudhoyono in October to keep the elections expires this month and needs parliament's approval to be extended.
The ruling coalition and Yudhoyono's Democrat party together hold almost half the seats in the lower house of parliament so the measure will probably pass, raising the chance of further cooperation between their groups. The prospect of Jokowi getting broader support for his policy agenda may reduce the political risk in Southeast Asia's largest economy that has been a deterrent to investment and has sent the rupiah lower.
"It's a good result for Jokowi, who is benefiting from the internal rifts within the opposition coalition," said Eric Sugandi, an Jakarta-based economist at Standard Chartered Plc. "The opposition coalition will still exist, but its influence is waning."
The opposition, led by failed presidential candidate Prabowo Subianto, voted in September to end direct local elections and return to a system of assemblies choosing leaders, while the Democrats abstained, allowing the law to pass. Jokowi, a former furniture salesman who got his start in politics through a local ballot in Solo, said the vote stole people's political rights.
Opposition Wavers
Faced with a public backlash, Yudhoyono is now seeking to reverse that outcome. At stake are more than 200 local elections planned for next year, according to Andrew Thornley, program director for elections at The Asia Foundation in Jakarta.
Aburizal Bakrie, the leader of Golkar, the country's second-largest party with about 16 percent of seats and a member of the opposition, said on Twitter after the Yudhoyono-Jokowi meeting he also supported direct elections. Bakrie was re-elected this month as Golkar chairman by regional party chiefs on a platform that included getting rid of local ballots.
Golkar's position on direct elections at the party meeting was just a recommendation, said Muhammad Misbakhun, a party lawmaker. Prabowo's Gerindra party, which also voted to end direct elections, previously supported them and its coalition parties are not breaking any promises, deputy Chairman Fadli Zon was quoted as saying last week by Kompas newspaper.
The about-turn means Bakrie may have achieved a goal to keep Yudhoyono's party neutral, said Shinta Eka Puspasari, an analyst at Jakarta-based security company Concord Consulting.
Power Transfer
The government in Jakarta began to transfer power to the regions after the fall of dictator Suharto in 1998, seeking to head off various secessionist movements and to better address local development in an archipelago that would stretch from New York to Alaska. The move also created scope for widespread corruption that siphons money from state budgets and deters foreign investment.
There were 141 local bureaucrats tried in 2013 for graft, according to non-government group Indonesia Corruption Watch.
Jokowi has won some initial battles against Prabowo's opposition, said Standard Chartered's Sugandi. He cited the president's smooth inauguration in October, the implementation of fuel price rises last month without a major outcry from lawmakers, and the installation of ruling coalition members in leadership posts in parliamentary commissions.
Balancing Force
The Democrats will push for changes to the election law, so there will probably be tough negotiations over extending the decree issued by Yudhoyono, said Concord's Puspasari.
"It might be ratified but likely with a huge compromise on the Dems' proposed conditions," Puspasari said. The Democrats were previously seeking changes including public integrity and competency tests for candidates and the formation of a panel to resolve election disputes.
The Democrats are likely to prefer to stay a balancing force in parliament because it gives them bargaining power with both camps, Sugandi said. The future is uncertain, said Didik Mukrianto, the party's secretary in parliament, when asked if the party will continue to side with Jokowi.
Yudhoyono has said the Democrats should lean toward Jokowi, while also seeking to quash speculation of a permanent alliance.
"Just like in the Cold War, we had the Western bloc and the Eastern bloc, then there was the Non-Aligned Movement," Yudhoyono said in a lecture last week at a university near Jakarta, the Jakarta Globe reported Dec. 11. "We have never discussed about staying together," he said.
Before it's here, it's on the Bloomberg Terminal.
LEARN MORE