TSMC's Ho Endured Lewd Jokes on Path to CFO at IPhone Chipmaker
Tim Culpan and Michael Tighe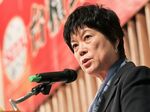 Lora Ho's career has taken her through smoke-filled meeting rooms with men cracking lewd jokes. It's also seen her helm $46 billion in capital spending at Taiwan's largest chipmaker.
Since becoming CFO in 2003, Ho has overseen a tripling of annual profit amid Taiwan Semiconductor Manufacturing Co.'s escalating battle with Intel Corp. and Samsung Electronics Co. to make chips for the world's largest technology companies. Her 30-year career charts a climb through male-dominated management teams, motherhood, and early adoption of technology to the top ranks of a company that earns about $8 in revenue from every smartphone sold worldwide.
"The glass ceiling is in your heart," Ho, the chief financial officer of TSMC, a supplier of chips to Apple Inc. and Qualcomm Inc., said in an interview at the company's Hsinchu, Taiwan headquarters. "It doesn't really exist."
Commanding half the market for contract chipmaking, TSMC this year won orders to make the processors that power Apple's iPhone, ending Samsung's exclusivity.
That victory is part of a continuing trend at TSMC to manufacture more of the chips that connect a phone to networks, control its display, or sense movement, netting what Ho estimates is an average of about $8 in sales from every smartphone sold worldwide, regardless of brand. Intel and Samsung also see potential in the chip foundry business, opening up more of their factories to the designs of outside clients.
Asia's Best
Increasing demand and heightened competition means Ho has had to find funds to cover annual capital spending that's ballooned from $2.7 billion in 2009 to a record $9.6 billion this year -- a figure exceeded by only Samsung and Intel in the chip industry -- while still maintaining a return on equity that's kept shareholders hanging onto the stock.
"For fiscal and financial management, TSMC gets a five-star rating," said John Brebeck, Taipei-based senior adviser at investment advisory firm Peace Field Ltd. Ho's credibility allows TSMC to easily tap capital markets, he said.
In 2011, TSMC sold bonds for the first time since 2002, commencing a $7 billion debt-raising spree that allowed Ho to tap into low interest rates and still pay a dividend. The same year, Institutional Investor magazine named her Asia's best CFO.
'Old Men'
A graduate of Taiwan's National Chengchi University, Ho, 58, followed her mother's advice to become an accountant because it was easier to find work. Her break came at a local pharmaceutical company where she became the only female manager among a team of "old men." Ho recalls sitting through meetings as colleagues smoked and told lewd jokes.
More than three decades after Ho started her career, Taiwan still lags behind on gender equality with 30.7 women in leadership positions for every 100 men, according to a 2013 MasterCard Inc. survey of gender parity. Taiwan ranked fifth out of 14 Asia-Pacific economies in overall equality, while placing sixth behind countries including New Zealand, Australia, and the Philippines in the leadership category.
"It's still very difficult for women to move up and be considered credible managers" at companies in Asia, said Véronique Salze-Lozac'h, senior director of economic development at nonprofit The Asia Foundation in Bangkok. "Very often when you're the only woman in the room, you just have to go with the whole atmosphere and can't really be too outspoken."
From pharmaceuticals, Ho stepped into Taiwan's burgeoning technology industry as a cost controller at a personal-computer company before moving on to a chipmaker. By 1999, she was recruited by TSMC, which at the time had annual sales of $2.4 billion.
Career Advanced
Her career advanced, she said, because she picked up on technology at a time when few companies had computers. In the early 1980s, she had learned to use spreadsheets on her home computer and was soon able to do the work of three people.
"In many cases I was the only woman. It didn't make me feel uncomfortable, I got used to it," Ho said of the male-dominated business culture she faced in the late 1970s. She didn't complain about the smoking or jokes because she "didn't want to spend time on that. I just keep quiet, don't echo it."
Balancing cash flow, planning strategy, and working under four different male chief executive officers to manage TSMC's finances, Ho said her gender had been irrelevant.
War Chest
Now with TSMC's debt and investment paying off in stronger revenue, Ho expects the company to boost dividend next year while maintaining a war chest of at least $5 billion in cash to buffer against competitors and an unstable global economy. TSMC is projected to post a 27 percent jump in sales this year to NT$756.5 billion ($24 billion), according to the average of 31 analyst estimates compiled by Bloomberg.
A mother of two, Ho says that having her in-laws help with childcare allowed her to focus on her career, while she got support from her husband, who also works in the technology industry.
The CFO was introduced to Facebook Inc. Chief Operating Officer Sheryl Sandberg's now-famous TED talk by her daughter. Sandberg's speech gave voice to much of what Ho had already discovered about balancing the competing pressures of family and career.
"She speaks for what really happens," Ho said. "'Don't give up before you have to,' right? Females are too easy to give up."
Before it's here, it's on the Bloomberg Terminal.
LEARN MORE