Travelex Buyer Shetty Said to Close $750m in Funding
Matthew Martin and Stefania Bianchi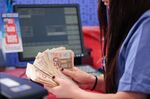 Bavaguthu Raghuram Shetty secured $750 million of financing to acquire a majority stake in Travelex Holdings Ltd., three people with knowledge of the matter said.
Goldman Sachs and Qatar National Bank arranged the loan and were lenders with Doha Bank, National Bank of Fujairah and Commercial Bank International, the people said, asking not to be identified as the information is private. The loan is for about 18 months and will be replaced with a longer-term facility in about a year's time, two of the people said.
Apax Partners LLP, one of Europe's largest private-equity firms, agreed in May to sell its majority stake in Travelex, a chain of foreign-currency exchanges, to Shetty and entities linked to Saeed Bin Butti Al Qubaisi's Abu Dhabi-based Centurion Investments. Shetty also owns UAE Exchange, a currency exchange and money-transfer company, although Travelex will continue to be run separately, the companies said in May.
Goldman Sachs and National Bank of Fujairah declined to comment. A spokeswoman for Shetty wasn't immediately available to comment. A spokesman for Travelex declined to comment. QNB and CBI didn't immediately respond to calls and an e-mail.
Before it's here, it's on the Bloomberg Terminal.
LEARN MORE