Scott's 'Exodus' Ends 'Mockingjay' Run Atop Box Office
Anousha Sakoui and Peter Burrows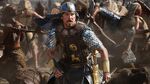 "Exodus: Gods and Kings," the biblical epic from Ridley Scott, topped the box office in the U.S and Canada in its debut over the weekend, toppling the latest "Hunger Games" movie that had led for three weeks.
Scott's story of Moses, played by Christian Bale, collected $24.1 million to place first for 21st Century Fox Inc.'s film unit, according to an e-mailed statement from Rentrak Corp. today. "The Hunger Games: Mockingjay -- Part 1" placed second with $12.7 million and "Top Five," a comedy directed by Chris Rock, opened in fourth place at $6.9 million.
The effects-heavy release from Scott is one of the last big films of 2014. Heading into the weekend, full-year ticket sales trailed 2013 by 4.7 percent, according to Box Office Mojo. Fox leads the domestic box office this year, with $1.76 billion in ticket sales.
"This is the latest example of a faith-based film to do well at the box office," said Paul Dergarabedian, a senior media analyst with Rentrak. "It hearkens back to the 1960s, the era of the biblical blockbuster."
"Exodus" tells the story of Moses as he rises up against the Egyptian pharaoh Ramses, setting 600,000 slaves on a monumental journey of escape from Egypt and its deadly plagues.
Joel Edgerton plays Ramses. The film, written by Adam Creed and Bill Collage, the writers of "Tower Heist," also features Ben Kingsley and Sigourney Weaver.
Scott's Gladiator
"Exodus" cost $140 million to make, according to Box Office Mojo. It had been projected to collect $26.5 million in its first weekend, according to BoxOffice.com. Scott's "Gladiator" opened in 2000 with $35 million in ticket sales on its first weekend. "Gladiator" remains Scott's biggest film to date worldwide, having grossed $458 million at theaters.
"Exodus" failed to impress critics. It garnered 27 percent positive reviews on Rottentomatoes.com.
"An utterly clueless, relentlessly grim and rambling action epic guaranteed to displease devout Jews, Christians and Muslims alike, amuse atheists -- and generally bore everyone," wrote Lou Lumenick in a review for the New York Post.
"Mockingjay" now has brought in domestic sales of $276.9 million. It had been predicted to add another $12 million over the weekend, according to Boxoffice.com.
"Penguins Of Madagascar," a family movie made by DreamWorks Animation SKG Inc. and distributed by Fox came in third, with $7.2 million.
Confronting Past
Written by and starring Rock, "Top Five" tells the story of New York City comedian turned film star, whose unexpected encounter with a journalist, played by Rosario Dawson, forces him to confront the comedy career and past he left behind.
The film is produced by Scott Rudin and Eli Bush, with rappers Jay-Z and Kanye West as co-producers.
The film registered 89 percent positive reviews from critics, according to aggregator Rottentomatoes.com.
"To the writing, Rock brings the discipline of his stand-up," wrote Betsy Sharkey in a review for the Los Angeles Times. "Even with some improvisation, there is not one throwaway line in this fat-free script."
The weekend also saw the limited release of "Inherent Vice," starring Joaquin Phoenix. The Warner Bros. release, directed by Paul Thomas Anderson, pleased critics with 73 percent positive reviews according to Rottentomatoes but collected just $328,000 on its debut.
Based on a 2009 novel by Thomas Pynchon, the film stars Phoenix as an investigator looking for his ex-girlfriend, who has disappeared.
Year to Date
"There are, of course, two ways to experience 'Inherent Vice': with the brain on or the brain off," wrote Wesley Morris in a review for Grantland. "Both work. The latter is a good time, the former more illuminating."
Weekend sales for the top 10 films fell to $73.8 million from $138.4 million a year earlier. Sales for the year to date have declined 5.1 percent to $9.66 billion, Rentrak said.
The following table has U.S. movie box-office figures provided by studios to Rentrak. The amounts are based on gross ticket sales for Dec. 12 to Dec. 14.
                    Rev.    Pct.            Avg./   Total
Movie              (mln)    Chg. Theaters  Theater  (mln)  Wks
===============================================================
 1 Exodus          $24.1     --    3,503   $6,884    $24.1    1
 2 Hunger Games     12.7    -42    3,731    3,400    276.9    4
 3 Penguins          7.2    -34    3,667    1,965     58.7    3
 4 Top Five          6.9     --      979    7,043      6.9    1
 5 Big Hero 6        6.1    -25    2,943    2,058    185.2    6
 6 Interstellar      5.5    -30    2,692    2,026    166.8    6
 7 Horrible Bosses   4.6    -45    3,202    1,440     43.6    3
 8 Dumb And Dumber   2.8    -35    2,842      980     82.1    5
 9 Theory Of Everyth 2.5     -7    1,220    2,022     17.1    6
10 Wild              1.5    152      116   13,198      2.4    2



Top 10 Films Grosses



   This Week     Year Ago      Pct.
     (mln)         (mln)       Chg.
===================================
     $73.8        $138.4       -47



Year-to-date Revenue



     2014          2013
      YTD           YTD        Pct.
     (mln)         (mln)       Chg.
===================================
    $9,658       $10,178      -5.1

Source: Rentrak Corp.
Before it's here, it's on the Bloomberg Terminal.
LEARN MORE