Netanyahu, Kerry Talk Tactics as Palestinians Plan UN Appeal
Amy Teibel and Nicole Gaouette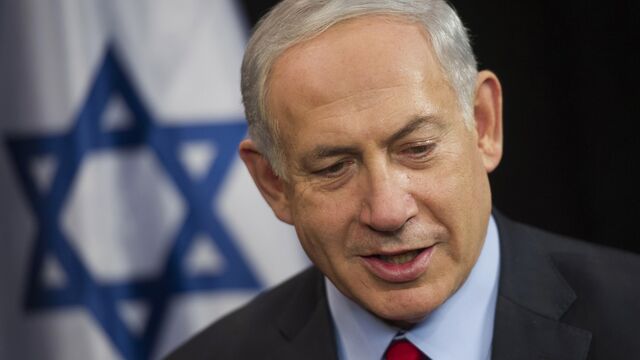 Israeli Prime Minister Benjamin Netanyahu and U.S. Secretary of State John Kerry held talks in Rome today amid efforts to avert a showdown at the United Nations over the Palestinian statehood campaign.
The Palestinians want the UN Security Council to approve a resolution laying down outlines of a final peace deal with Israel, setting a November 2016 deadline for an Israeli pullout from lands sought for a Palestinian state. The plan will be presented to the UN on Dec. 17, Palestinian Liberation Organization official Hanna Amira said in a phone interview.
Israel opposes the plan, which would require it to withdraw to lines it held before the 1967 Middle East war. The U.S., Israel's strongest ally, also says Palestinian statehood should be negotiated, and it may use its veto at the Security Council to block any resolution.
"The American government has backed our policy for 47 years that any solution between us and the Palestinians will be done through negotiations," Netanyahu told reporters after the meeting. "I don't see any reason that would change."
The premier declined to say whether he received a U.S. commitment to use the veto. Kerry, who didn't comment after the meeting, will hold talks with senior Palestinian officials in London on Dec. 16. A U.S. official, speaking on condition of anonymity to discuss the talks, said Kerry and Netanyahu "exchanged thoughts" about possible UN resolutions.
American Pressure
The Palestinians say they are turning to the UN in frustration after more than two decades of failed peacemaking, which they and the Israelis each blame on the other. The UN campaign comes as violence between the sides is surging, and Israel prepares for early elections. Polls suggest Netanyahu isn't assured of winning a fourth term.
"We are in a confrontation now with the U.S. because it doesn't support our UN Security Council move," Palestinian Foreign Minister Riyad al-Malki told official Voice of Palestine radio yesterday. "The U.S. wants us to postpone this move until after the Israeli elections," he said, adding without elaboration that there is "direct American pressure on the financial and political level."
A State Department official, speaking on condition of anonymity, said the U.S. opposes any deadline for the withdrawal of Israeli troops from the West Bank.
The U.S. has used its veto in the Security Council dozens of times to shield Israel from UN criticism. It may be more reluctant to do so now, after legislatures in seven western European nations recently endorsed Palestinian statehood. While the endorsements carry no legal weight, they increase the pressure on Israel to do more to resolve the conflict.
'Against Everyone'
The Americans "don't want to seem again as alone in the Security Council against everyone," said Eytan Gilboa, a professor of political studies at Bar-Ilan University outside Tel Aviv. On the other hand, they reckon that failure to cast a veto "will help Netanyahu in the elections here, because he will be able to say, 'Look, you need someone strong here to withstand the international pressure.'"
Palestinian officials say they've delayed submission of a draft resolution while they work with European countries, primarily France, to fine-tune the text. Europeans are working on an alternative text.
Netanyahu said today that he spoke to French President Francois Hollande a few days ago and "told him I think that the move is negative and will bring the opposite of what is intended," undercutting peace negotiations. The last talks, brokered by Kerry, collapsed in April.
The Palestinians want to establish a state in the West Bank, east Jerusalem and Gaza Strip, territories Israel captured in the 1967 war. It withdrew settlers and soldiers from Gaza in 2005 while retaining control over its borders.
Before it's here, it's on the Bloomberg Terminal.
LEARN MORE