Get Ready for the First Senate Campaign Ads of 2016
The incoming Senate Majority Leader aired 61 different ads during a meticulous re-election campaign. They helped.
By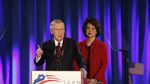 If the just-concluded Senate elections are any guide, the first television ads of the 2016 campaign will begin flooding your TV screen sooner than you think.