Congress's Youngest-Ever Woman Is No Political Spring Chicken
Incoming freshmen like New York's Elise Stefanik are creating political funds that were once the province of high-ranking members of Congress.
By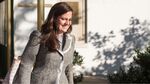 Elise Stefanik is still a few weeks away from entering Congress, where she'll be the youngest woman in its history to do so.
"I am honored and humbled to be the youngest woman ever elected to the United States Congress, and to add an additional crack to the glass ceiling for future generations of women here tonight," Stefanik, a 30-year-old Republican from New York's North Country, said on election day after she was declared the winner.
A former aide in George W. Bush's White House, Stefanik is showing her familiarity with how politics is practiced in Washington by creating a political fund known as a leadership PAC.
"E-PAC" is the name of Stefanik's PAC, which she can use to raise money from donors and also distribute funds to favored political candidates. "Leadership PACs are designed for two things: to make money and to make friends," according to the Center for Responsive Politics, which tracks campaign giving.

No political novice, Stefanik joins other incoming freshmen who have already set up the political funds. She also worked in the Bush White House for four years and for Tim Pawlenty when he ran for president, then for Paul Ryan when he was Mitt Romney's vice-presidential running mate.
Republican leaders, who are always looking to boost their image among women and young voters, thought highly enough of Stefanik that they had her deliver the party's response to President Barack Obama's weekly radio address one month before the election.
"I decided to run for office because my generation can't just complain about these problems; we have to help solve them as well," Stefanik said.
American Crossroads, the super-PAC advised by former Bush adviser Karl Rove, helped Stefanik win a contested primary in New York's 21st District, left open by retiring Democrat Bill Owens. She easily won the November election against Democrat Aaron Woolf.