Abe Scores Commanding Majority in Japan Lower House Election Win
Isabel Reynolds and Maiko Takahashi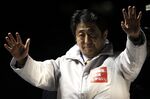 Prime Minister Shinzo Abe's ruling coalition was on track for a sweeping election win with the premier claiming a mandate to continue with his economic policies.
The coalition of Abe's Liberal Democratic Party and junior partner Komeito won a two-thirds majority in the lower house, according to NHK projections based on actual votes cast. The bloc won 325 of 475 seats with two still undeclared, matching the number before the election. Turnout fell to a record low on a combination of voter apathy and heavy snow in parts of the country.
The 60-year-old premier called the early election to seek a new mandate for his economic policies to end deflation after the world's third-biggest economy slipped into recession. A convincing win would also make it easier for Abe to push ahead with unpopular plans such as restarting nuclear reactors and strengthening the nation's military, which a majority of Japanese oppose.
"This landslide victory will give Abe plenty of power to proceed with his reflationary policies," said Masamichi Adachi, senior economist at JPMorgan Chase & Co. in Tokyo and a former central bank official. "Even so, the low turnout reflects the view that many voters don't accept Abenomics."
Speaking on TBS television after polls closed, Abe said the result showed citizens' confidence in the two years of his administration. The economy will definitely improve under current policies, he said in a separate interview on Fuji TV.
Soaring Stocks
The public spending and unprecedented monetary easing of Abenomics has pushed the yen to a seven-year low, sending corporate profits and stock prices soaring. The benchmark Topix index has risen more than 70 percent since Abe won the December 2012 election.
"I voted for the LDP because I support Abenomics," Shiho Matsuno, a 37-year-old who works in finance in Tokyo, said outside a polling station in Saitama prefecture, north of the capital. "I expect the Abe administration to act aggressively for the economy and markets," she said.
Matsuno's view contrasts with the majority of people, who say they haven't benefited from Abe's economic program that has eroded real incomes, polls show. Many stayed at home, with turnout of about 52 percent, a postwar low, and down from 59 percent in 2012, according to government data.
Opposition Parties
The election result also underscores the LDP's dominance of the Japanese political landscape, with the main opposition Democratic Party of Japan -- hobbled by factionalism, shifting policies and funding shortages -- unable to capitalize on concerns over the economy and Abe's falling popularity.
While the party won 73 seats, DPJ leader Banri Kaieda lost his seat in the Diet. The Japanese Communist Party took 21 seats, more than doubling their tally from eight in 2012.
"It's one strong party leaving the others behind," said Kazuhisa Kawakami, political science professor at Meiji Gakuin University in Tokyo. "The opposition parties found it hard to put anything forward as a focus of contention" and weren't able to shift the focus of the election away from the economy, he said.
Prior to the vote, Abe's support levels had been sliding. In addition to the economic woes, his popularity had been damaged by the passage of a bill stiffening penalties for leaking government secrets and a cabinet resolution re-interpreting the pacifist constitution to allow Japan to defend other countries.
The approval rating for his cabinet has fallen to 42 percent from a peak of more than 70 percent in April last year, according to Nikkei newspaper polls.
Before it's here, it's on the Bloomberg Terminal.
LEARN MORE