Taliban Attacks in Kabul, Helmand Leave at Least 19 People Dead
Eltaf Najafizada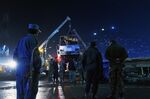 Six Afghan soldiers, 12 mine clearers and a senior official from the country's Supreme Court were killed today in separate attacks in Afghanistan.
Taliban militants opened fire on the mine clearers while they were working in the southern Helmand province, according to Omar Zwak, a spokesman for the region. Twelve others were wounded. Taliban spokesmen Zabihullah Mujahed and Qari Yousef Ahmadi claimed responsibility the attack and two others.
Six Afghan soldiers were killed and 14 wounded when a suicide bomber struck their vehicle in Kabul, according to Zahir Azimi, a defense ministry spokesman. Separately, the head of the Supreme Court's secretariat, Atiqullah Rawoofi, was shot dead by two unidentified gunmen near his home, Kabul police spokesman Hashmatullah Stanekzai said by phone.
Insurgents, including Taliban militants, are stepping up violence across the country two weeks before the withdrawal of U.S.-led combat forces from Afghanistan.
Two International Security Assistance Force soldiers were killed in attacks late yesterday in eastern Afghanistan, Hadley Justin, a spokesman for the multinational alliance, said by phone, declining to comment on their nationalities.
Before it's here, it's on the Bloomberg Terminal.
LEARN MORE