Michigan State Students Protest Graduation Speaker Will
Chris Christoff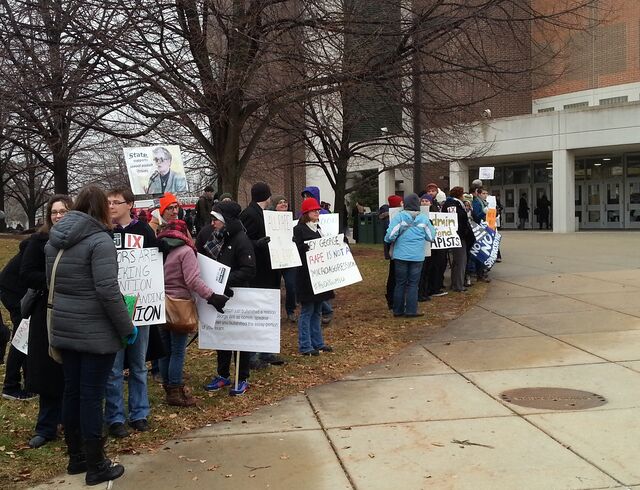 Holding signs saying "Respect My Student Body" and "Rape Is Not a Privilege," about 200 people stood outside Michigan State University's fall commencement to protest speaker George Will, who disparaged sexual-assault survivors in a column this year.
"Sexual assault is important and it shouldn't be belittled and the person who is speaking here today is doing exactly that," said Danielle Dillon, 20, a junior at the university in East Lansing.
Protesters failed to persuade MSU President Lou Anna Simon to rescind Will's invitation during a sit-in earlier this week in which they delivered a petition endorsed by 70,000 people. In a June 6 column, Will wrote that colleges are learning "that when they make victimhood a coveted status that confers privileges, victims proliferate."
Will, who is receiving a honorary doctorate of humanities, was chosen as a commencement speaker long before his column was published, Simon said in a Dec. 9 statement posted on the school's website. She defended the decision to keep him on for the morning graduation ceremony, saying he would offer a different point of view from afternoon speaker, documentary filmmaker Michael Moore.
Having Will speak in no way signals that she or the university endorse his column, Simon said.
"Great universities are committed to serving the public good by creating space for discourse and exchange of ideas, though that exchange may be uncomfortable and will sometimes challenge values and beliefs," Simon wrote in the statement.
Red Tape
As Will got up to speak, about 15 people in the audience of several thousand stood up and turned their backs toward him. The columnist, whose writing is carried by hundreds of newspapers, made no mention of the protest, his June 6 column or the subject of sexual assault. The crowd applauded when he was done.
Protesters outside, including students, survivors of sexual assault and support group members, were polite and quiet, braving the chilly weather around the Breslin Center, the school's basketball arena and commencement venue. Some stood with red tape across their mouth and held placards saying "Fund Rape Counselors, Not Rape Apologists."
"We want to let the students graduating here know, 'Congratulations,'" said Nicholas Pigeon, 18 and a freshman. "We stand with them because some might be survivors. We want MSU to know that this is a serious offense to us as a student body."
Student Complaints
Students across the country have filed federal complaints against the colleges over their handling of sexual assaults on campus. About 90 institutions, including Michigan State, are under review by the U.S. Education Department for possible violations of laws that bar gender discrimination in education and that require schools to report campus crime and violence.
Unlike Will, several high-profile speakers backed out of delivering commencement addresses around the country earlier this year amid calls they be disinvited. Former U.S. Secretary of State Condoleezza Rice withdrew from Rutgers University's ceremonies in May after complaints about her position on the Gulf War when she served under President George W. Bush. International Monetary Fund Managing Director Christine Lagarde pulled out as a speaker at Smith College amid protests over IMF policies.
Before it's here, it's on the Bloomberg Terminal.
LEARN MORE