United Technologies May Seek Largest Deal Yet to Spur Sales
Richard Clough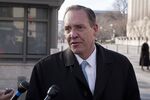 United Technologies Corp.'s new chief executive officer said he will consider acquisitions in excess of $20 billion as he reviews portfolio changes that could also include selling off key business units.
In his first public appearance since being appointed to the top post last month, Gregory Hayes said he is taking a hard look at all of the company's units, which sell products from Black Hawk helicopters to Otis elevators and Carrier air conditioners. He said he would look at opportunities bigger than the $16.5 billion acquisition of Goodrich Corp. in 2012, the largest-ever aerospace purchase.
"We've done $22 billion of acquisitions in the last couple of years, we've done $8 billion of divestitures, but we're never ever done," he said during a presentation to analysts in New York on Thursday. "Whatever we need to do to increase shareowner value, we will do those things, no matter how difficult."
United Technologies has lagged behind competitors this year. The stock fell 1.4 percent in 2014, trailing the 3.8 percent increase in the Standard & Poor's 500 Industrials Index, as the company encounters headwinds in several key business units. The shares fell 1.7 percent to $112.15 today in New York.
"We've underperformed, full stop," Hayes said. He gave a forecast yesterday for next year's earnings that fell short of analysts' forecasts.
The company is going to be "aggressive with share repurchase," buying back as much as $3 billion of stock, Hayes said.
While there are limitations on its use of overseas cash, United Technologies could take on debt to facilitate a buyback, Joseph Nadol, a JPMorgan Chase & Co. analyst in New York, said in a note to investors after the meeting. It appears "there has been introspection regarding the importance of creating shareholder value and turning around recent underperformance," Nadol wrote. He rates the stock overweight.
Under Pressure
Slowing growth in China is weighing on sales prospects for the company's Otis elevator business, and commercial-building business sales have stalled in Europe, which is "overall, not a great story," Hayes said.
A major new jet-engine program, in development for more than a decade, is boosting costs for the Pratt & Whitney subsidiary. While Alain Bellemare, CEO of UTC Propulsion & Aerospace Systems, said he feels good about the progress of the geared turbofan engine program, there is "a lot of pressure on Pratt for 2015" as it boosts production, he told investors.
Reduced military spending also is clouding the outlook for Sikorsky, the helicopter unit that generates more than half of its sales from U.S. defense contracts.
Hayes said earnings per share next year will be $7 to $7.20. Analysts had estimated 2015 earnings of $7.29 a share, according to the average in a Bloomberg survey. Sales at the Hartford, Connecticut-based company will be $66 billion to $67 billion, below the $67.6 billion average estimate.
"It is still a challenging growth environment," Hayes said.
For Sale
United Technologies has faced a tumultuous few weeks after its CEO of six years, Louis Chenevert, resigned abruptly late last month. Hayes, the company's chief financial officer since 2008, was promoted to the top post when the company announced Chenevert's departure on Nov. 24.
The new CEO "articulated a desire to clearly examine the assumptions of the company's operating units," Howard Rubel, an analyst at Jefferies LLC who recommends buying the shares, said in a note today. "There may be more divestitures, as well as some acquisitions. We don't sense a deal for the sake of it."
Hayes acknowledged a number of recent analyst reports suggesting the company may sell or spin off Sikorsky under his leadership. While he said United Technologies has no plans to divest the unit, "anything's for sale at the right price."
Hayes said he plans to get more involved with the M&A process and is setting his sights high.
"If there's a $20 billion or even $30 billion deal out there, we're not going to say no," he told reporters after the meeting.
Before it's here, it's on the Bloomberg Terminal.
LEARN MORE