To Avoid Row With Beijing, Pope Francis Will Not Meet With Dalai Lama
Christina Larson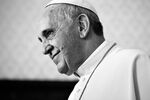 They preach similar messages about love and charity, the arrogance of power, and uplifting the impoverished and oppressed. But the pope and the Dalai Lama won't be meeting at an upcoming summit in Rome for winners of the Nobel Peace Prize.
"The Vatican administration says it is not possible because it could cause problems," the Dalai Lama told a correspondent in Rome for Religion News Service. Meanwhile the Vatican's chief spokesman, the Reverend Federico Lombardi, told RNS: "Pope Francis obviously holds the Dalai Lama in very high regard, but he will not be meeting any of the Nobel laureates."
The subtext is more about Beijing than Rome. Since assuming his role, Pope Francis has made a concerted effort to improve relations with China, where an estimated 12 million Catholics live. The Chinese government currently bans the Vatican from appointing religious authorities in China, however, and instead elevates its own bishops. (The government-backed Chinese Patriotic Catholic Association is not recognized as legitimate by the Vatican.)
China's government regularly directs ire at heads of state who meet with the Dalai Lama, Tibet's religious and secular leader in exile. In February, President Obama invited the Dalai Lama to a meeting at the White House. A spokesperson for China's foreign ministry told reporters that the gesture was "a gross interference in China's domestic politics" and "a severe violation of the principles of international relations. It will inflict grave damages upon the China-U.S. relationship," according to the Guardian.
South Africa recently denied the Dalai Lama a visa to attend a forum for Nobel Peace Prize winners in Cape Town. In response, the scheduled forum was moved to Rome.
Within China, there are now roughly 100 million practicing Christians, as the growing middle class seeks to define moral values and meaning in their lives. While the state shows increasing tolerance for Christianity, Buddhism, and Taoism in the officially atheist country, restrictions on China's Muslim minorities have become more severe in recent years. In early December, Urumqi, the capital of the western Xinjiang region, banned Muslim women from wearing a veil or burqa in public—a rule many expect will lead to a backlash in state resistance.
Before it's here, it's on the Bloomberg Terminal.
LEARN MORE