Six Tips to Boost Customer Service During the Holidays
Customer service is one area where small businesses can beat big-box competitors
By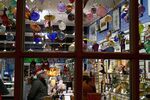 The holiday shopping season brings new people into your small business. If you impress them, you have a shot at turning them into loyal customers. Disappoint them, and you risk turning them off forever.
It's not easy to keep service levels high when lines are long and customers get cranky. A recent survey showed that 69 percent of consumers reported worse customer experiences during the holiday months.
But customer service is one area where small businesses can beat big-box competitors. "The real differentiator for small business is providing the excellent, personalized customer service that has been lost in retail today," says Ronald Goodstein, associate professor of marketing at Georgetown University.
Here are six tips for boosting customer service this month:
Set an example. Business owners should be on the sales floor greeting customers with the kind of attitude they want their employees to display. "The holiday rush is a good thing, not a burden. Get into the shop early, greet your staff members with a smile, and have coffee and something easy for them to munch on when they arrive," says small business coach Dawn Fotopulos. Having holiday treats in the store for tired, hungry customers is a good idea, she says.
Manage seasonal staff. If you've brought in temporary help or seasonal employees, make sure they're scheduled alongside experienced staffers. "Putting two or three new people on shift at the same time is a recipe for disaster" that could make customers question your quality commitment, says Andrea Servadio, co-founder of Fitdog Sports Club, a doggy day care in Santa Monica, Calif. But when new people can get quick answers to questions and remedy mistakes, customers are far more forgiving.
Go beyond expectations. Dan Graham, chief executive officer of BuildASign.com and EasyCanvasPrints.com, has a budget devoted to sending flowers or other unexpected gifts to customers. "This is the time of year, more than any other, where we come into contact with a lot of our customers. It's imperative that they have a good experience so it will drive repeat business," he says.
At mobile accessories company Tech Armor, co-founder Eric Tong pumps up his customer service team with stories from prior holidays. "One of our favorites was a customer who purchased a product for her son and was only going to see him on Christmas Eve," he says. "She couldn't afford the overnight shipping. We surprised her by expediting the shipment so she was able to give the gift in person. She called us Santa's elves."
Empower your employees. Graham's employees have the decision-making power to do whatever it takes to make customers happy. "This eliminates the need for tedious processes and manager reviews that make customers—and customer service representatives—frustrated," he says. When TechArmor's customers are upset, Tong instructs employees not to focus on whether they are right or wrong, but to respond with compassion. "Most customers will appreciate honesty. Own up to mistakes and allow customers to provide input for how you might make amends," he says. "Whenever a customer or potential customer reaches out, we don't dismiss or neglect them."
Reward your staff. If your employees are on commission, make sure they get appropriate credit for ringing up sales, Georgetown's Goodstein says. Offer bonuses and sales rewards and spring for lunch, especially during the busy days when your employees may be missing out on time with family and friends. "Rewards for your employees should reflect the position you want to have in your customers' minds," he says. If your company is all about fun, throw a great holiday party. If you're about service, have a contest that sends the winner to a high-end hotel for a weekend.
Run the numbers. Analyze last year's sale figures to determine when you'll be busiest and staff up to meet the demand, so your employees won't be overwhelmed. Pick out some metrics that help you measure excellent customer service: cash register or telephone call wait times, perhaps. Then monitor those metrics and go over them regularly with your employees so they're clear what your expectations are for this holiday season.