Obama's Less 'Desperate' Health Care Press Tour
After the president's "Between Two Ferns" prompted questions of dignity, this round of Obamacare promotion has been tame.
By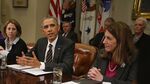 With Obamacare's first major deadline of the year arriving on Dec. 15, President Barack Obama has begun a short media tour to encourage enrollment. On Monday he appeared on Comedy Central's "The Colbert Report," and on Friday he hit ESPN radio's "The Herd with Colin Cowherd," a radio station in Raleigh, and "On Air with Ryan Seacrest" (which will air Monday).