Obama's Less 'Desperate' Health Care Press Tour
After the president's "Between Two Ferns" prompted questions of dignity, this round of Obamacare promotion has been tame.
By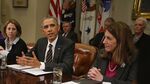 With Obamacare's first major deadline of the year arriving on Dec. 15, President Barack Obama has begun a short media tour to encourage enrollment. On Monday he appeared on Comedy Central's "The Colbert Report," and on Friday he hit ESPN radio's "The Herd with Colin Cowherd," a radio station in Raleigh, and "On Air with Ryan Seacrest" (which will air Monday).
Open enrollment doesn't end until Feb. 15, but this season's enrollment period is only half as long as last season's. The main difference is that, as Alex Wayne at Bloomberg News reported, enrollments are expected to exceed (lowered) expectations, thanks to a working website and new customers.
During the health-care law's enrollment deadlines last winter and spring, the question was whether 7 million people would enroll, especially young adults. That spurred advertisements during the Olympics, a video featuring Michelle Obama with Jonah Hill and Adam Levine's moms attempting to guilt people into getting insured, and Obama appearances on "The Ellen DeGeneres Show" and "Between Two Ferns."
Besides being duller, this media tour hasn't inspired the same debate. After "Ferns," Fox News' Bill O'Reilly argued it was "a little bit desperate" and Abraham Lincoln wouldn't have done it, Breitbart News said the president was "reduced to working the talk show circuit like a B-lister promoting a cable pilot," and during a press briefing an ABC News reporter asked if the presidency had been "damaged."
While the president mentioned Obamacare during his ESPN interview, the discussion focused on other topics: pro athletes weighing in on controversial issues (as several have done after recent police shootings); NFL conduct standards; and speculation about the basketball season. For example, Business Insider focused on the fact that Obama spends his mornings watching ESPN.
During his "Colbert" appearance, the president spent nearly seven minutes reading off Obamacare talking points while jokes appeared in a sidebar—Republicans' health-care alternative would be "Walk-It-Off.gov," etc. That was the closest appearance to "Ferns" style-wise, but less well received.
"The 'Between Two Ferns' thing was funny and even a bit edgy," media critic Eric Wemple wrote at the Washington Post. "This Colbert stunt wasn't; it was boring talking points recited in front of a roaring studio audience and wrapped in the comic genius of Comedy Central."
Maybe you can afford to be less edgy when you're not scrambling to enroll people.