Rebellious Pelosi Sends a Message
President Barack Obama phoned his fellow Democrat after a budget fight caused a rare split.
By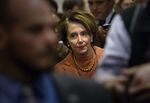 If House Minority Leader Nancy Pelosi was trying to send a message that her party's votes were not to be taken for granted, it may have rattled her friends in the White House more than her Republican rivals.
During a vote Thursday night for a $1.1 trillion spending measure that Pelosi opposed, House Speaker John Boehner strolled the floor, shaking hands, putting his arm around fellow Ohioan Joyce Beatty, a Democrat, and sharing a laugh. House Republicans' top vote counter, Steve Scalise, chatted casually with GOP Representative Paul Ryan. House Majority Leader Kevin McCarthy appeared equally calm.
"I am a happy warrior," Boehner told reporters as he walked into the chamber before the vote. It had been another day of disarray in Washington and it was just three hours from what would have been a second government shutdown in two years.
That was not the impression left by White House chief of staff Denis McDonough when he exited a late-night meeting with House Democrats before the vote, looking ashen. He barely glanced at a group of reporters, saying only that the chance to speak with the lawmakers had been a "great opportunity."
"He's lucky he got in the room," said Representative Kurt Schrader, an Oregon Democrat who opposed the bill. "People were a little surprised the White House was lobbying this thing. Members were shocked all of the sudden to be getting lobbied by the president of the United States on a budget that is obviously not very good. There's a full offensive going on."

That full offensive ultimately won just 57 Democrats in support of the bill, less than one third of the caucus for the world's most powerful man and just enough to pass the so-called "cromnibus," a strange blend of Washington jargon that inspired equally peculiar alliances. While Obama personally called House Democrats seeking their support and found himself on the same side as Boehner and incoming Senate Majority Leader Mitch McConnell, Pelosi and a majority of her members were allied with Tea Party members like Representatives Thomas Massie of Kentucky and Justin Amash of Michigan.
Still, Pelosi was overheard taking a call from Obama after the vote. The president called to thank her for the outcome, according to a source familiar with the call.
The vote closed the curtain on a relatively unproductive and tumultuous two-year legislative session and was a prelude to the new Congress that will be sworn in next month. When that happens, Pelosi will find herself in charge of the smallest and most liberal group of House Democrats in generations.
By showing her willingness to blow up a big spending package as part of a narrow debate over bank regulation and campaign-finance measures, Pelosi aligned herself with the most liberal wing of her party, took on Obama in a rare public display of disagreement, and set a marker for the next two years on how far she'll go to help Republicans pass crucial legislation.
She managed a liberal revolt led by Senator Elizabeth Warren of Massachusetts by giving members room to air their grievances while fighting for last-minute changes. That included a marathon three-hour meeting Thursday night in which some lawmakers sent guacamole and tortilla chips out to waiting reporters.
"There are a lot of members of the caucus that understand ... their more liberal constituencies feel like this is a giveaway to Wall Street," said Representative Jim Moran, a Virginia Democrat who voted for the deal. "They're not going to let Elizabeth Warren get to the left of them."
Pelosi called Boehner repeatedly on Wednesday and Thursday, including a last-ditch effort for a so-called manager's amendment that would have allowed several changes at once, according to a source familiar with the calls. She also tried to recruit into the fight Senator John McCain, the 2008 Republican presidential nominee who sponsored a major campaign-finance bill in 2002, according to the source.
She held together her caucus on a procedural vote earlier Thursday that almost doomed the bill. Had Republican leaders not convinced two of their members to switch their votes, including Indiana's Marlin Stutzman, who suggested he was tricked into making the change, the larger measure would have died. (Leadership aides denied Stutzman's claim, according to Roll Call.)
After the procedural vote, Pelosi sounded the alarm on the broader spending measure with a passionate speech, accusing Republicans of sneaking in a provision that would ease regulation of big banks specifically so that Wall Street donors could return the favor with campaign contributions. Another part of the measure would increase the amount of money individual donors can give to political parties. She said her party was being "blackmailed" into supporting the provisions by tucking them into a package with other measures Democrats supported on topics including education, health care and environmental spending.
"It's quid pro quo," she said on the House floor. "We gave Wall Street this gift. And on top of that, that we gave their donors, high-end donors, all the opportunity in the world to pour money into the process."
After Pelosi's speech, Republicans delayed a vote on the spending measure for seven hours as they tried to collect more support.
Despite her opposition, Pelosi was also opening the door for the measure to pass. She repeatedly told lawmakers she wasn't "whipping" the vote, which meant Democrats could vote as they pleased without any fear of consequences. "I'm giving you the leverage to do whatever you have to do," she told Democrats at the end of their private meeting as Republicans rang the House bells to signal it was time to vote, according to a source who was present. "We have enough votes to show them never to do this again."
Steny Hoyer, the No. 2 ranking House Democrat, spoke from the floor in favor of the measure. Joe Crowley, the No. 5 House Democrat, backed it, too.
"She made her argument about why she thought it was a lousy way to bring a bill to the floor, but she never told people how to vote," said Representative Sam Farr, a fellow California Democrat, who backed the bill. "This is the best appropriations base we were going to get, and we were able to knock out a lot of obnoxious riders and squeezes they tried to put it. So it did send a signal. They couldn't pass an appropriations bill without 57 Democrats voting for it."