Mexico Minister Videgaray Bought Home From Embattled Builder
Jonathan Levin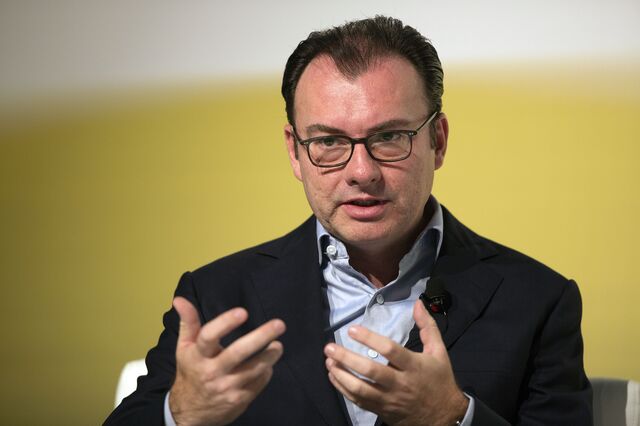 Mexico's Finance Minister Luis Videgaray said he bought a 7.5 million peso ($508,000) home from a builder at the center of a political scandal that has helped erode the government's popularity.
Videgaray said yesterday in a letter to the public that he purchased the home in October 2012 from Bienes Raices H&G, controlled by businessman Juan Armando Hinojosa. A unit of Grupo Higa, which is also owned by Hinojosa, was part of a consortium that won a $4.3 billion contract to build the Mexico-Queretaro high-speed rail project. The deal was canceled on Nov. 6, three days after being awarded to the joint venture led by China Railway.
President Enrique Pena Nieto's government has faced declining approval ratings since reports emerged that the first lady had acquired a home from Hinojosa. Pena Nieto's wife, the former soap opera star Angelica Rivera, said last month she would sell her rights to the house. The title to the house is held by a unit of Grupo Higa.
Videgaray commented on the purchase of the house yesterday, after the Wall Street Journal published a story on his ties to the builder.
Speaking today in a radio interview, Videgaray said he is willing to help with a probe into the transaction. He said he has a personal relationship with Hinojosa, and that the home in the central Mexico town of Malinalco had no relation to the awarding of public contracts.
'Completely Legal'
In the letter yesterday, Videgaray said the deal was "completely legal," and that the home was purchased in October 2012, months before he assumed public office. He said he acquired the home with a mortgage provided by Hinojosa's company that was paid off in early 2014.
Videgaray said in an interview with Televisa that he opted to take a loan from the builder, because it "wouldn't be simple" to get credit from a bank given regulations.
"I acted honestly and in accordance with the law," Videgaray wrote. "Those are the principles that guide me as secretary of finance and public credit, and nothing will distract me from the goal of contributing toward the transformation of Mexico to reach its true potential."
A press official for the presidency didn't respond to an e-mail and phone call seeking comment this morning before normal business hours.
Pena Nieto's approval rating has plunged to the lowest level since he took office two years ago amid the political scandal and the disappearance of 43 students who where allegedly kidnapped and killed with the help of police officers.
Thirty-nine percent of those polled approved Pena Nieto's performance, the least for any Mexican president since the mid-1990s and down 11 percentage points from August, according to a survey published Dec. 1 by Mexico City newspaper Reforma. The national household survey of 1,020 adults had a margin of error of 3.1 percentage points and was conducted Nov. 20-23.
Before it's here, it's on the Bloomberg Terminal.
LEARN MORE