London's Air Meltdown and the Global Power of Travel Hubs
The flight problem Friday in London was a jarring reminder: Some air hubs are more crucial than others
By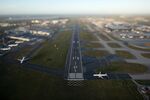 The air traffic control glitch that snarled flights around London on Friday reaffirms the city's critical role in global airline service, yet another example of how an unexpected outage at a single hub in the air-travel network can have cascading consequences.
London airspace was severely restricted Friday afternoon after an equipment malfunction at a control center in Swanwick, in central England. The unspecified computer glitch led to thousands of flight delays across Europe. "U.K. airspace has not been closed, but airspace capacity has been restricted in order to manage the situation," NATS, the nation's air traffic control service, said in a statement. At 4:30 p.m. local time, about 90 minutes after the outage began, London's main international airport, Heathrow, started allowing some flights to depart. Only about 14 flights took off from London's six major airports between 3:30 p.m. and 4:30 p.m., according to data collected by Flightradar24, an airline tracking service.
The latest episode of aerial gridlock comes less than three months after a similar outage in Chicago. In that case, a suicidal worker set a fire at a Federal Aviation Administration radar facility in Aurora, Ill., southwest of Chicago, closing the airspace at one of the world's busiest air-traffic control centers and wreaking havoc at Chicago's O'Hare International and Midway airports. The fire damage at the Aurora center caused airlines to cancel some 2,000 flights the day of the attack and disrupted air traffic nationwide for about two weeks. The FAA's Chicago center handles more than 6,000 flights each day.
There's not yet an indication of what disrupted London's air-traffic control capabilities. Such systems are sophisticated networks and subject to any range of mishap, from a software error to a hacker, fire, or even a flood. Sky News reported Friday that the "state-of-the-art" Swanwick center has suffered several technical glitches in recent years. But it's clear from past examples that these outages can reach far beyond the city of origin. Think of an airspace closure around a global hub such as London, Chicago, or New York as an electrical outage: The longer it lasts, the more expensive it becomes. Aircraft diverted to other cities put those planes and flight crews in the wrong spot, affecting not just the passengers on a particular flight but thousands more destined for other cities.
The vital cog that locales such as London and Chicago play in the global economic engine ensures one important thing when it comes to aviation: Problems are fixed quickly. In the Chicago fire, authorities had a stopgap measure in place within hours to conduct operations, farming out controllers and their traffic duties to smaller cities. The repairs were finished Oct. 13, 17 days after the sabotage. "We hope to never see an event like this again," Federal Aviation Administrator Michael P. Huerta said in October.
Airspace can also be closed due to diplomatic and political disputes, as Europe has seen in its tensions with Russia. After a Malaysian Airlines plane was shot down over Ukraine in July, airlines were quick to avoid that space. In response to economic sanctions, Russian President Vladimir Putin has also threatened to close Siberian airspace, a critical link between Western Europe and Asia. Even the prospect of rerouting around established flight paths due an unforeseen no-fly zone can be a huge burden for airlines.