Awkward Timing for China's Memorial of Japanese War Atrocity
By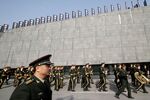 For Chinese leaders, it must have seemed like a no-brainer. Locked in a territorial dispute with Japan, they had spent months demonizing nationalist Japanese Prime Minister Shinzo Abe, whom they accused of reviving Japanese militarism. In January, after Abe visited the Yasukuni Shrine, the Tokyo landmark that memorializes Japan's war dead, including war criminals from World War II, a Chinese official talked about militarism as "the haunting Voldemort of Japan."
So at the time it made perfect sense for China to play one of its most powerful cards by reminding Japan of its most notorious atrocity from the war. The National People's Congress in February decided to declare a national memorial day on Dec. 13, the anniversary of the start of the Rape of Nanjing, the weekslong rampage by Imperial Japanese soldiers in 1937. More than 300,000 Chinese died, according to the Xinhua news agency, and about 20,000 women were raped.
Chinese "have repeatedly proposed" a national memorial day for the victims, Xinhua reported in February. China's government, however, didn't take action until this year, when coincidentally ties with Japan were in the deep freeze. Suddenly it was "extremely necessary to set a national memorial day for the Nanjing Massacre victims and hold public memorial services and other activities on the national level," according to Li Shishi, director of the Legislative Affairs Commission of the NPC Standing Committee.
On the eve of the anniversary, though, China's relations with Japan have taken another turn. With the Chinese economy slowing, demonizing Japan is now less of a priority. So, at the summit of Asia-Pacific leaders in Beijing last month, President Xi Jinping and Abe finally had their first meeting. And while the get together was certainly frosty, it was evidence of a shift in Sino-Japanese relations. On Dec. 4, Chinese Premier Li Keqiang met in Beijing with members of the 21st Century Committee for China-Japan Friendship and told them "we should continue to get over political obstacles and promote China-Japan strategic mutual beneficial ties."
As China's leaders decide to pivot toward detente with Japan, they're playing catch-up with Chinese businesses, especially those in the private sector. Less concerned about the need to be politically correct regarding perfidious Nippon, they're happy to team up with Japanese partners. For instance, Lenovo, the world's top PC brand, this year extended a joint venture with Japan's NEC. Tencent, which owns the massively popular mobile messaging app WeChat, has a new alliance with SoftBank-controlled GungHo Online Entertainment, the Japanese gamemaker behind Candy Crush Saga and Final Fantasy. The two will release GungHo's Puzzle & Dragons smartphone game, GungHo announced on Wednesday, marking the Japanese company's debut in China.
The biggest success story of the year in China was the initial public offering of Alibaba, the e-commerce giant run by Jack Ma. After adding $25 billion to his net worth, Ma is now the richest person in Asia, according to the Bloomberg Billionaires Index. The second-biggest winner from the Alibaba IPO was Masayoshi Son, the founder and chief executive of Tokyo-based SoftBank, which is the largest shareholder in Alibaba.
Before it's here, it's on the Bloomberg Terminal.
LEARN MORE