Four Charts That Explain Why America Has Too Many Law Schools
A new law school just got official status. That's bad news for the law school
By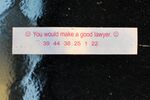 On Monday, a brand new law school was born: The American Bar Association provisionally accredited Lincoln Memorial University's Duncan School of Law. The school has five years to prove itself before getting the complete seal of approval. Until then, according to an elated post on the school's website, is entitled to "all the rights of a fully approved law school."  
LMU will now enjoy the right to beg for the attention of ever-fewer applicants, lead those people into a bar exam with a historic failure rate, and produce graduates who can only hope they land one of the dwindling jobs that actually make use of their $90,000 degree. It is probably the worst time in decades to be a law school. The three charts below show why we don't need to be minting any new ones. 

Law school enrollment is in free fall, declining 24 percent since 2010. In 2013, first-year law school enrollment dropped to its lowest point in 36 years, according to the American Bar Association. The last time law school classrooms were this sparsely populated was 1977, when the U.S. had only 163 law schools. Now there are over 200. That's stressful math, and some experts think that to fill their classes in the face of waning interest in the legal profession, law schools are turning to people who do worse on the LSAT.

According to an analysis by Jerry Organ, a law professor at the University of St. Thomas in Saint Paul, Minn., the share of students starting law school with the lowest LSAT scores has grown to over 20 percent, while the best applicants now make up only 16 percent of entering classes. There is a lawyer joke about how "A" students make good professors, "B" students make good judges, and "C" students make good money. That is a fun thought, but the logic sort of falls apart when you take a look at this year's bar exam results. 

Pass rates took a steep dive in several state bar exams this year, prompting the people who help create the test to blame "less able" law students and law school deans to blame a flawed exam. People did very badly on the multiple choice section of the test, where scores hit a 10-year low. Passing the bar is a requirement to become a lawyer in most states, though that problem may only be hypothetical, given how unlikely it is that law grads can actually get jobs as lawyers.  

 The employment rate for new law grads has taken a 6-year-tumble, reaching 84.5 percent in 2013 according to a report this year  by the National Association for Law Placement. Over a third of people who graduated law school in 2013 either didn't have a job or had one that had little to do with the fact that they had gone to law school for the last three years. 
Poor LMU.