Ex-Wife of TCI's Hohn Got 36% of Assets in London Divorce
Andrea Gerlin and Lindsay Fortado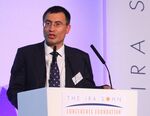 Jamie Cooper-Hohn, the ex-wife of the Children's Investment Fund Management UK LLP founder Chris Hohn, was awarded 36 percent, or $530 million, of their $1.5 billion marital estate, in the largest divorce case to reach London.
The amount, which was disclosed last month, was closer to the 25 percent share of the assets offered by Hohn than the equal split Cooper-Hohn had sought.
The final judgment issued yesterday shows that U.K. courts are willing to give wealthy spouses a greater share of joint assets in exceptional cases, potentially changing the perception of London as a jurisdiction that favors non-working spouses in divorces.
"This decision is a dent to London's divorce-capital reputation and opens the door for divorce lawyers to argue for bespoke divorce solutions," Jane Keir, a family-law attorney at Kingsley Napley LLP in London. "Batten down the hatches for legal argument over whether a widget entrepreneur's fortune, an astute company buyout or a fast hedge fund hundred million are 'exceptional' contributions."
Zoe Watt, a spokeswoman for Jamie Cooper-Hohn, said she wouldn't comment on the ruling. Hohn didn't immediately respond to an e-mail seeking comment.
Roberts gave Cooper-Hohn 21 days from a Nov. 28 hearing to decide if she wants to appeal the ruling. Hohn's lawyer, Lewis Marks, said in court then that Hohn believes he has grounds for an appeal and would lodge one if his ex-wife does, though Hohn is eager to resolve the matter.
Victory for Entrepreneurs
The case, which tested existing rulings that tend to assume wives make equal contributions in marriages, is a victory for the entrepreneurial community, according to Emily Brand, a London-based family lawyer at Winckworth Sherwood who is not involved in the case.
Judges can award more than half of assets if a spouse has made "special or stellar contribution," she said. The decision calls into question "whether England, with London the so-called divorce capital of the world, will remain the jurisdiction of choice for the non-earning partner."
The 48-year-old fund manager is known for his activist investing, buying stakes in companies and pressuring management to make changes that might drive up the share price. After investing in European Aeronautic, Defence & Space Co., TCI pushed the airplane manufacturer to sell its 46 percent stake in Paris-based Dassault Aviation SA last year and give the proceeds to shareholders. The fund has about $8 billion in assets under management, according to court documents.
Special Contribution
"This is a case where a significant departure from equality in the husband's favor is entirely justified by the compounding factors of post-separation accrual and special contribution," Judge Jennifer Roberts said in the ruling. "An award at that level properly reflects her contributions and her entitlement to a fair share."
Roberts cited a case decided eight years ago in which a judge gave the ex-wife of Axis Capital Holding Ltd.'s then Chief Executive Officer John Charman 36.5 percent of their 130 million-pound marital estate based on his special contribution to the marriage.
"The husband has generated what, on any view, must be regarded as an extraordinary amount of wealth," the judge said of Hohn.
Hohn, who was honored by the queen in June for his philanthropic work, has generated wealth of about $6 billion in his working life, the judge said. That includes $4.5 billion that was given a charity the couple founded.
Family Charity
The charity, known as the Children's Investment Fund Foundation, fights child poverty in developing countries, mostly in India and Africa. CIFF has in the past received a third of TCI's 1.5 percent management fee and 0.5 percent of profits over 11 percent.
The couple, who married in 1995 after meeting at Harvard University, have four children, including triplets. Hohn has agreed to pay 30,000 pounds for each of the children per year along with the cost of school.
Neither had much money before their marriage, they both testified. The judge used a timepiece as a metaphor for the couple's standard of living, saying during the trial that they lived a "Swatch lifestyle."
Hohn was earning $70,000 a year as a fund manager when he took a job at Perry Capital in 1996. By the time he left in 2003, he had accumulated $100 million. He invested that amount in TCI and increased it about ninefold, according to the judge.
Now their assets include $27 million in real estate: a London property that was valued at $17.7 million, which Hohn has spent 9 million pounds ($14 million) to 10 million pounds rebuilding, a $6.5 million home in Jamaica and a $2.7 million home in Connecticut. He gets the London and Jamaica properties, while she retains the Connecticut home.
The case is Cooper-Hohn v. Hohn, case no. 12-1549, U.K. High Court of Justice, Family Division.
Before it's here, it's on the Bloomberg Terminal.
LEARN MORE