Carlsberg Drops as Ruble Falls, CEO Sees No Imminent Solution
Christian Wienberg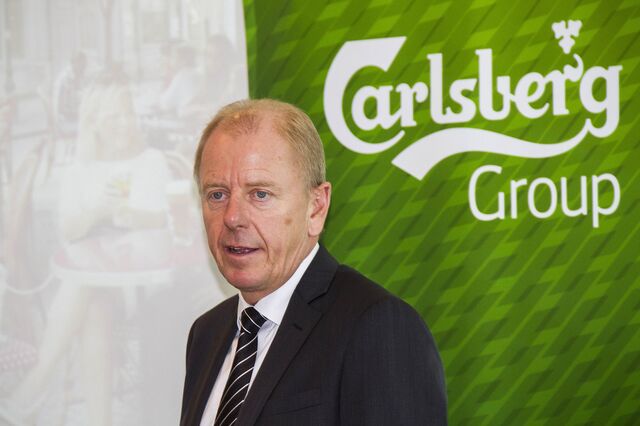 Carlsberg A/S fell the most in almost four months in Copenhagen trading after the ruble declined and the brewer's chief executive officer said he sees no near-term fix to the company's plight in Russia.
Carlsberg fell as much as 4.2 percent, the most since Aug. 20. The shares were down 4.1 percent at 484.50 kroner at 9:59 a.m. in the Danish capital, heading for the lowest closing price since July 24, 2012.
Carlsberg, which generates about a third of its earnings in Russia, has suffered losses on the back of the ruble's slump. CEO Joergen Buhl Rasmussen said late yesterday that the Russian market remains "challenging" for Carlsberg.
"It's hard to see a solution just around the corner," Buhl Rasmussen said at a Copenhagen presentation for journalists. "The ruble is lower. It has a negative impact."
The ruble fell again today, dropping 3.1 percent as of 10:14 a.m. Copenhagen time. The currency has lost 37 percent this year against the dollar.
"The ruble's decline is substantially watering down the group's income," Frans Hoyer, an analyst with Jyske Bank A/S, said today by phone. "The market is still way too optimistic about Carlsberg."
Danske Bank A/S today lowered its recommendation on Carlsberg to hold from sell, saying it's taking "a more careful stance towards Carlsberg's Russian exposure." The bank also cut a 12-month share-price estimate to 550 kroner from 590 kroner, according to a note to clients.
Carlsberg shares have lost 19 percent this year compared with an 8.2 percent gain in the Stoxx 600 Consumer Goods Index of 70 companies.
"The macro picture is looking very bad for Russia," said Hoyer, who recommends selling Carlsberg shares. "We're looking at a Russia in recession in 2015. The Russian consumer will be squeezed in a pincer movement by a weak economy from one side and by high inflation from the other."
Before it's here, it's on the Bloomberg Terminal.
LEARN MORE