NFL Union Plans Legal Action as Peterson Loses Ban Appeal
Erik Matuszewski and Mason Levinson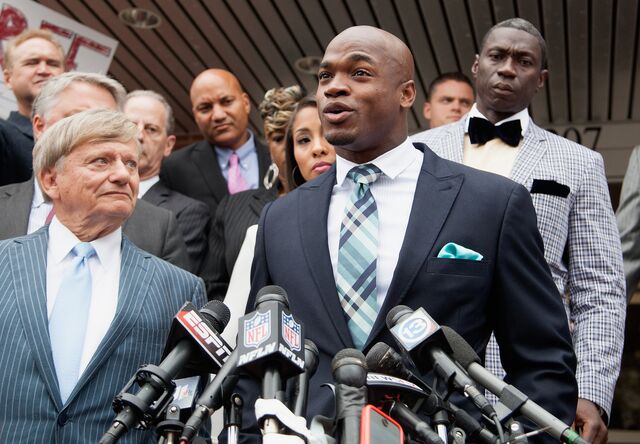 The National Football League Players Association said it is considering further legal action after its appeal of Adrian Peterson's suspension was denied, preventing the NFL's 2012 Most Valuable Player from seeking reinstatement for at least four months.
Peterson, 29, was put on the NFL's exempt list on Sept. 17 -- preventing him from playing -- after being indicted by a Texas grand jury on assault charges for beating his 4-year-old son with a stick. He pleaded no contest Nov. 4 to reckless assault, a misdemeanor, and avoided a trial, yet was suspended without pay for the remainder of the season two weeks later by NFL Commissioner Roger Goodell.
Arbitrator Harold Henderson, who spent 16 years with the NFL overseeing player and labor relations, denied the NFLPA's appeal yesterday, ruling that Peterson failed to demonstrate that the process and procedures surrounding his discipline were not fair and consistent. The union said in a statement it expected the appeal to be rejected, given Henderson's "relationship and financial ties to the NFL."
"The decision itself ignores the facts, the evidence and the collective bargaining agreement," the union said. "This decision also represents the NFL's repeated failure to adhere to due process and confirms its inconsistent treatment of players. Our union is considering immediate legal remedies."
Henderson's ruling came about two weeks after an independent arbitrator vacated the NFL's indefinite suspension of former Baltimore Ravens rusher Ray Rice, calling the extended ban arbitrary and an abuse of Goodell's power. Rice initially had been banned two games for knocking out his then-fiancee in a New Jersey casino elevator. The second discipline came after video of the altercation became public.
'One Decision'
"That case differs from this one in that it turned on a second, later discipline more severe than the first," Henderson said. "In this case there was only one decision by the commissioner on the player's discipline."
Peterson, who played in one game this season, told ESPN that the NFL is making an example out of him. He'll be fined a total of six game checks -- Peterson has a salary of $11.75 million this season -- and won't be considered for reinstatement until April 15. The Vikings have a 6-7 record with three games left in the regular season and are unlikely to qualify for the NFL playoffs.
"I have nothing but love for Ray Rice, I'm happy he has the chance to play," Peterson is quoted by ESPN as saying in a telephone interview. "But it's like, how did Ray Rice get reinstated before me, a team has a chance to pick him up, but I don't have the opportunity to come back until April. When has that happened in any other case in the NFL, ever?"
Next Step
Peterson told ESPN he will appeal the decision in federal court. Former Green Bay Packers executive Andrew Brandt, who's now a business analyst for ESPN, said Peterson and the NFLPA will face "an uphill battle" in federal court due to deference for a collective-bargaining process.
Brandt said on ESPN that yesterday's ruling was "an affirmation, a confirmation" of Goodell, who has faced criticism for his handling of domestic-abuse cases. The NFL earlier this week introduced a revised personal-conduct policy that removed some disciplinary power from Goodell, while allowing for independent league investigations into off-field indiscretions and taking a tougher stance on domestic violence.
"It would have been a blow to have two very, very high-profile cases both get reversed," said Paul Haagen, a professor of sports and contract law at the Duke University School of Law in Durham, North Carolina.
Haagen said he's interested to see how the union challenges the rejected appeal.
Union, NFL Rift
The NFL and the NFLPA have been at odds over the way Goodell unilaterally handed down discipline for violations of the previous personal-conduct policy, an authority granted to him through collective bargaining in 2011. The union said it was rebuffed in efforts to have changes to the personal-conduct policy collectively bargained and wasn't offered the "professional courtesy" of seeing the rules before they were approved by league owners and made public three days ago.
"The next stage on this may be fairly significant because at least part of the claim is going to be that this was a violation of the collective-bargaining agreement," Haagen said in a phone interview. "That could be significant if Goodell were to lose on those grounds because part of what the league has been arguing is that the personal conduct policy doesn't need to be collectively bargained."
Henderson's Ties
Henderson was chosen to decide the dispute after the NFL Players Association asked Goodell to appoint an independent arbitrator. His appointment was not well-received by the union because of his previous ties to the league.
Central to the union's argument was that it had an agreement with the league to remove Peterson from the exempt list after his legal issues were resolved, and that he would receive credit for time spent on the list.
While Peterson didn't testify at the appeal hearing after making an opening statement, Henderson ordered NFL Executive Vice President for Football Operations Troy Vincent to testify.
The NFLPA said Vincent told Peterson that he wouldn't be subject to the NFL's new personal-conduct policy because his incident occurred in May, before the new policy's implementation in August. Vincent had also told Peterson that he could receive credit for time spent on the exempt list, union outside counsel Jeffrey Kessler argued.
"Mr. Vincent testified that he never promised a two-game suspension or that the old policy would control, but rather encouraged Mr. Peterson to 'go through the process and all things will be considered,'" Henderson said in his ruling.
Uncontested Facts
When announcing the full-season ban, Goodell said Peterson's use of a weapon, his lack of remorse and the size difference between him and his son all factored into his decision. Peterson has apologized for hitting his son with a switch, a whip fashioned from a thin tree branch, saying his intent was to discipline his son and not to injure him.
Henderson said Peterson's egregious conduct merits substantial discipline.
"The facts in this appeal are uncontested," Henderson said. "The player entered a plea which effectively admitted guilt to a criminal charge of child abuse, after inflicting serious injuries to his four-year-old son in the course of administering discipline."
Before it's here, it's on the Bloomberg Terminal.
LEARN MORE