$70 Oil Is Norway Break-Even Point, Central Bank Chief Says
Saleha Mohsin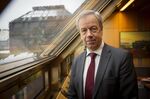 Norway's central bank, which unexpectedly cut interest rates yesterday, will remain under pressure until Brent crude rises back above $70 a barrel, its governor said.
As oil prices plunge the most since 2008, Governor Oeystein Olsen said the development in energy markets is playing a more crucial role in policy setting than some other variables that normally determine interest rates. Olsen's rate cut yesterday drove the krone down to its lowest level against the dollar since 2003. The krone dropped 1.1 percent to 9.1438 against the euro as of 4:07 p.m. in Oslo today, its weakest since 2009.
"There is now uncertainty around future developments for the oil price and linked to that are implications for the currency," Olsen said today in an interview in Oslo. "Uncertainties around international developments have not disappeared, they are still there. There is perhaps less focus on that because we are so focused on the oil price."
Oil is showing signs of replacing the krone as the key gauge economists will need to track to determine how Norway's central bank will act. While a slump in crude prices has driven down the krone and fanned inflation, the bigger cost to Norway of a continued oil slide prompted Olsen to cut rates yesterday.
Brent crude, the oil market that Norway's central bank tracks in its analyses, dropped to about $62 today, its lowest level since July 2009.
"Staying below $60 and $70" a barrel "instead of increasing back to higher levels -- that's of significance," Olsen said today.
'Severe Downturn'
"A weaker krone is not important to Norges Bank to the same degree as before," Arne Lohmann Rasmussen, chief analyst at Danske Bank A/S, said in an e-mailed reply to questions. "Lower oil prices gives a higher probability of further rate cuts."
Norway risks a "severe downturn" as the price of oil continues to decline, Olsen said yesterday, after lowering the bank's key interest rate by 0.25 percentage point to 1.25 percent. The bank also cut its estimate for economic growth next year to just 1.5 percent, from 2.25 percent in September. The figure adjusts for the impact of offshore revenue.
50-50 Chance
Oil prices have plunged 45 percent from a June high, the worst decline since the financial crisis erupted in 2008. Norges Bank estimates oil investments will drop by 15 percent next year, with the risk of "spillover" effects on the rest of the economy and rising unemployment. Norway generates more than one-fifth of its national output from its fossil fuel wealth.
Olsen said yesterday there is a "50-50 chance" of another rate cut next year.
"We analyze the oil market but we basically have to observe how the price develops," he said today. "We have used a lot of resources and focused a lot on the implications and the effects in the Norwegian oil industry caused by lower oil prices -- that's the main focus area."
Before it's here, it's on the Bloomberg Terminal.
LEARN MORE