$565,000 Greubel Forsey GMT Black Watch Is Idiosyncratic, Incredible
By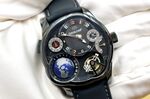 There are no two ways about it: Greubel Forsey makes incredible watches. The designs are a bit, shall we say, "idiosyncratic," and after a decade they still continue to ignore all but the highest end of the market. It's all part of the charm. The GMT was first released in 2011, but the GMT Black is a departure from the rose gold and platinum versions we've seen trickle out since, utilizing lightweight titanium instead of a precious metal for the case. This is a watch to stare at. Go ahead, we'll be here a while.
First Thoughts: Even if the GMT Black isn't the sort of thing I'd wear to watch to the Giants game on Sunday (unless I owned the team, maybe), it's the most approachable version of one of the most impressive watches on the market. The titanium case means that even with its large profile it still weighs less than a Ferrari -- even if it costs more. The black finish makes it less in-your-face and lets you really admire the finishing on the non-blackened components. The GMT might be a few years old by now, but staring at that globe never gets old.

Cocktail Party Fact: It's a little hard to give Greubel Forsey's case shapes proper names, but that wonky geometry has a purpose. At 43.5mm across (without the bulges), the GMT's case is already big. The idea with the asymmetrical design is to highlight the design elements that Greubel Forsey wants wearers to focus on, to give the tourbillon and globe room to breathe, without having a bunch of empty dial space around the edges. The extra sapphire window at the side of the globe is another nice touch that adds to the effect. It might seem strange at first, but the unusual shape is a really smart solution.
The Basics
Case Diameter: 43.5mm

Case Thickness: 16.14

Case Materials: Black ADLC-coated titanium

Dial: Black

Strap: Hand-stitched black rubber with folding clasp
Complications: 24-second tourbillon, GMT function, three-dimensional globe worldtimer, power reserve indicator, detailed worldtime disc and moon indicator (on the back side of the movement)
Reference Number: 91006139

The Movement
Caliber: GF05 in-house movement

Parts: 443

Power Reserve: 72 hours

Winding: Manually-wound

Finishing: Frosted plates, hand-bevelled and chamfered edges, straight graining, black polished surfaces, blued screws. Every tiny component is finished to the most superlative level. It doesn't get any better than this.

Getting One
Availability: Limited edition of 22 pieces, available January 2015

Price: $565,000
Bloomberg's New Watch report is your source for the most up-to-date news in the world of horology, telling you exactly what you need to know about newly released watches from around the globe.
Before it's here, it's on the Bloomberg Terminal.
LEARN MORE