We Can't Say No When Kim Jong-Un Dishes on Jolie: Opening Line
Laurence Arnold and C. Thompson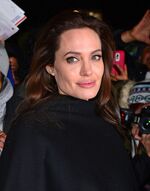 The fallout from the celebrity-nude-selfie hacking scandal earlier this year included calls from several quarters to, as Nancy Reagan might say, Just Say No.
"Don't look at the leaked nudes," read the headline on a Salon.com column by Mary Elizabeth Williams, who wrote in part, "We often don't have a say in what gets disseminated. But we have a choice about whether or not to participate in its perpetuation."
We can't and won't, as journalists, question the decision by news organizations (including ours) to squeeze every last paragraph out of the internal Sony Pictures e-mails that were released by hackers.
Putdowns of Angelina Jolie's talent? Irresistible. Dirt on the Steve Jobs film? Fascinating. The company's distaste for Dan Loeb? Interesting-ish.
Still: If we're supposed to be drawing a moral line regarding hacked celebrity nudes, how good can we feel about reading the naked truth about Hollywood infighting, courtesy of hacked e-mails? Even if North Korean cyber-terrorists aren't behind the Sony attack, would we feel good about being partners with whomever else did it?
Don't get us wrong: We're reading it all.
***
Today's U.S. economic indicators are retail sales, import prices, and initial jobless claims at 8:30 a.m. EST, followed by Bloomberg's consumer comfort index at 9:45 a.m., business inventories at 10 a.m., and change in household net worth at noon.
RadioShack and Ciena Corp. will report earnings before the market opens, and Adobe Systems will report after the bell. Twenty-two companies are scheduled to price initial public offerings.
***
- Today is the deadline for a U.S. government-funding agreement. Might get interesting. - ECB says banks take 130 billion euros ($161.4 billion) in targets loans, adding fuel to argument for quantitative easing. - Alleged computerized currency rigging at Barclays and Deutsche Bank said to be under investigation by New York regulators. - Russia raises one-week auction rate to 10.5 percent from 9.5 percent. - Unscrupulous traders lick their chops. - BOE cuts number of interest-rate meetings, accelerates publication of meetings' minutes. - The Economic Club of New York is addressed by Bank of Canada Governor Stephen Poloz at 7:45 a.m., followed by a press conference. - The Platts Global Energy Outlook Forum takes place in New York, starting at 9 a.m. - The U.S. ban on crude-oil exports will be the topic of a House Energy and Commerce Committee hearing at 9:30 a.m. in Washington. - Amilcar Morais Pires, former CFO of Banco Espirito Santo. speaks at a parliamentary hearing at 4 p.m. in Lisbon, 11 a.m. EST. - NYT's Dealbook Conference takes place at the World Trade Center. - Hong Kong police begin clearing the last of the protests. - Putin is visiting India. So is the "prime minister" of the "Republic of Crimea." - Brazil's own torture report isn't much prettier. - U.S. closes detention center at Bagram Air Base in Afghanistan. - Obama aide departing administration amid speculation he'll join Clinton campaign. - EPA may miss deadline on pollution rule for power plants. - Israel blames U.S. criticism for slowing construction of West Bank settlements. - California's bracing for some rough weather. - Construction of Denver VA hospital halted by contract dispute. - USS Ponce's laser-weapon demonstration released by U.S. Navy. - Fully operational Apple 1 will be auctioned at Christie's in New York. - Golden Globe Award nominees will be announced at 8 a.m. EST. - Harvard professor who went nuclear after being overcharged by Chinese restaurant concludes with apology. - Yes, Knicks slip to 4-20, and it's getting ugly in the locker room. - Punishing kids for lying only makes them bigger liars. - Mustard on tap.
***
As mentioned at the end of yesterday's item about the Senate Intelligence Committee's report on the CIA's use of torture, or "enhanced interrogation techniques," in the post-9/11 reality, this chapter in history would get plenty of study. For good or ill.
It took one day.
The round-up of global media spans Asia, Latin America, and Europe and finds reactions pretty much running the gamut. We won't steal too much of the story, just offer a taste.
North Korea was quick to jump on the theme of hypocrisy, blasting the U.S. for inveighing incessantly about human rights while, uh, pumping what sounds like hummus granola up prisoners' butts. Ditto with Argentina, and it's funny, because these two countries know from human-rights abuses.
Oddly, some of the countries that hate us most were more restrained, while one of our closes allies, if not the closest, the U.K., let us have it. But interestingly and perhaps reassuringly, many news outlets marveled at a system that would produce the ugly truth.
***
Bloomberg eco-stats wizard Alex Tanzi threw a few e-mails around yesterday, and we're picking up a couple of them for you.
First is a note from Nouriel Roubini saying things in China are not looking good and reducing his forecast for 2016 GDP growth to 5.4 percent from 5.6 percent. China's GDP is forecast to grow 7.4 percent this year, by 7 percent in 2015 and by 6.7 percent in 2016, according to what we see on the Bloomberg terminal.
Next is a research report from Macroeconomic Advisers, citing spending on health care, that said the shop is adding four-tenths of a percentage point to its estimate for third-quarter U.S. GDP, predicting a figure of 4.6 percent. The preliminary reading right now stands at 3.9 percent. Moreover, they're adding a tenth to their forecast for the fourth quarter, making it 2.1 percent, compared with the median survey forecast of 2.6 percent.
The last one is the fun one. It's a release yesterday from the Philadelphia Fed observing a spike in its partisan conflict index. We didn't know about this thing, but it reads like it has some wisdom behind it. "Research suggest that increased partisan conflict increases uncertainty among firms and households," the release says. "Such uncertainty has been shown to slow economic activity by delaying business investment and consumer spending."
***
We got a call from our guy a short time ago -- if he ever gives up wealth advising, there's a future for him in financial reporting -- who took issue with the notion in our markets wrap story yesterday about declining demand for oil. Maybe we're 10 percent oversupplied, he said. That causes this kind of price slide? He wasn't buying it.
Sir, meet the Kids These Days.
Teens, who used to champ at the bit to get behind his or her own set of wheels, just aren't that into cars as much these days, or even getting driving licenses. They're finding it harder to get jobs that would pay for them, getting rides from friends or parents, and as they get into their 20s, moving to cities.
Combine this with improving automotive fuel efficiency, rising supply not just of fossil fuels from shale plays but also biofuels, as well as the onset of renewable energies, and you have a lot more dinosaurs resting comfortably in their graves, Lynn Doan and Dan Murtaugh tell us today.
Looking for rising energy prices? Head over to the Islamic State.
This, of course, is not good news for a lot of the energy companies on this list produced yesterday over at Zero Hedge, a table showing total debt to Ebitda as an illustration of leverage. When the shakeout comes, and it will, you can probably use this as a checklist.
We prefigured this demographic shift. The first car we bought was at the age of 24, just a couple weeks after getting a license for the first time. It was a 1966 Pontiac Catalina sedan with 87,000 miles on it, acquired for $50. It was as wide as a church door and as long as a first down, and fuel efficiency was practically measured in gallons per mile. Times change, and keep changing.
***
The next time that braggart New Yorker launches into a lecture about knowing every corner of the Greatest City in the World -- where to find real Pho in the Bronx, or the best tailor on Staten Island -- here's your conversation stopper:
"Ever been to Hart Island?"
We hadn't heard of it, either, until we read Flavia Krause-Jackson's story today about New York's last remaining community graveyard, a 131-acre island between the Bronx and Long Island's North Shore that "remains trapped in a time warp."
Turns out, while Rikers, Ellis, Roosevelt and Governors hog most of the attention, New York has more than 30 other small islands, some densely packed, others that "disappear at high tide," Krause-Jackson writes.
Hart's distinction is that it's one of the largest U.S. cemeteries -- a so-called potter's field, "the final resting place for a million corpses, a third of them stillborn babies" -- and has been off limits to most visitors for four decades.
As many as 1,500 unidentified, homeless or unclaimed bodies still get buried there each year, with labor supplied by convicts from Rikers Island.
If you think that Hart sounds perfect for a "Law & Order" episode, we did too. And it was.
***
If any of you are allowing kids under the age of, say, 6 years old to read this column, you'll want them to look away from this item. And if you do have a 6-year-old reading this column, please get in touch.
It won't be long now, if the trends found by the Journal for Nature Conservation continue, before Santa Claus will be grounded until he can make regular deer fly. Because the population of reindeer is dwindling.
They're mostly called caribou in the regions of North America and Greenland, but over in China region, which was the primary focus of the study, the rangifer tarandus tarandus are Donners and Blitzens, still known as reindeer, and their population has plunged by 28 percent since the 1970s.
They're dying from poaching and predators, inbreeding and tourism. No one much seems to care, at least for the moment; the International Union for Conservation of Nature still lists the reindeer population as being among those of "least concern."
Try telling that to your little ones.
***
Many sports fans who learn about professional golfer Florian Fritsch's career-quashing fear of flying will think of another sports figure famously tethered to the ground: football coach and broadcaster John Madden.
Fritsch, a native of Germany, "began fabricating illnesses" to avoid flying to golf tournaments, eventually giving up the tour while "playing just enough to keep his credentials," Andrea Rothman and Kari Lundgren report in a story about the aviation industry's work with fearful fliers.
For Fritsch, the feeling is a fear of dying. "On the day of the flight, I feel like I'm the next one up on death row," he said.
Madden, now 78, retired in 2009 after a career as a football coach and broadcaster that required him to travel around the U.S. For three decades as a broadcaster, his preferred means of transportation was his own decked-out bus.
In a Q-and-A on the website of the American Sportscasters Association, Madden said his aversion to airplanes was rooted in claustrophobia, not a fear of flying.
"When I coached, I flew all the time," he said. "I would get in there, they would shut the door, and I would feel that I have to get out and then have a panic attack. It happened three times, and on the third time, I said, 'This is it. If I get down from this one, I'm never going to get on another airplane the rest of my life.' Which I didn't."
Rothman and Lundgren evoke "the fear of being suspended in midair, trapped in a slender metal cylinder above the clouds." If we think about that too long, we might end up with Fritsch and Madden on the ground.
***
No, we told Dan Hauck, managing editor for company news, ex-Pennsylvanian and a lusty Phillies fan, we're not going to write an item about Jimmy Rollins's trade to Los Angeles. This is a New York-centric news wire (as much as a couple of guys from Chicago don't like to admit it), and no one gives much of a damn about Philly teams except when they're beating New York teams.
Yeah, fair point, Hauck said. But still, he continued, Rollins is a big deal. Guys don't spend 15 years with one team anymore, and win an MVP and a World Series title to boot.
True. Not to mention two National League pennants, four Gold Glove awards and three all-star appearances, and co-recipient this year, with Paul Konerko, of the Roberto Clemente Award.
I'm just thinking, Hauck said, about how Rollins had 2,300 hits with the Phils -- and he was the guy who stuck his neck out and said the Phils, rather than the Mets, were the team to beat in 2007. That arguably changed the culture/trajectory of two franchises. He also wasn't afraid to call the Philly fans frontrunners.
Hope you give him a shout-out tomorrow, Hauck said.
OK, Dan. Why not.
Before it's here, it's on the Bloomberg Terminal.
LEARN MORE