Tim Bid at $15 Billion Still 66% Short of Valuation by Owner
Daniele Lepido, Cristiane Lucchesi and Manuel Baigorri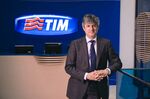 At $15 billion, a plan by three Brazilian mobile-phone companies to buy and split a major rival, Tim Participacoes SA, is set to meet resistance from its owner.
Tim, Brazil's second-largest wireless carrier, is valued by its controlling shareholder Telecom Italia SpA at about $25 billion, or two-thirds more than what Oi SA, Telefonica SA and Claro SA are considering, according to a person familiar with the matter. Telecom Italia continues to evaluate a possible bid for Oi, the person said, asking not to be identified discussing internal deliberations.
The valuation gap means Telecom Italia may seek to stay in Brazil and instead attempt a combination with just Oi. The country's carriers are trying to consolidate a market where there are fewer new users and billion-dollar investments are hurting profit margins. Yet, Brazil's growth prospects are brighter than those in Europe, making telecommunications providers wary of exiting at a too low price.
Take Vivendi SA. The French media group agreed in September to sell its Brazilian broadband unit GVT to Telefonica for about $9 billion after the buyer boosted its offer in a bidding war with Telecom Italia.
As it struggles to halt a decline in revenue at home, Telecom Italia relies on Brazil for about 30 percent of its revenue. Chief Executive Officer Marco Patuano last month received backing from its board to explore a combination between Tim and Oi, the smallest of Brazil's four major wireless providers.
Friendly Deal?
Comments in the recent weeks by Telecom Italia and Oi executives showed the companies may be willing to negotiate a merger in Brazil. Bayard Gontijo, Oi's interim CEO, when asked last month whether Oi could merge with Tim, said his "objective is to create shareholder value" and he "won't have any prejudice in how we're going to do that."
Patuano said last month that while keeping the Brazilian business remains the preferred option, the carrier would look at "any good opportunities" in the country.
Telecom Italia directors on Nov. 21 gave top managers the mandate to examine "in depth the options for a possible integration" of Tim and Oi. Telecom Italia, which owns 67 percent of Tim, hasn't requested access to Oi's financial accounts, the person said. Oi has a market value of $3.7 billion. The carrier has more than $18 billion in debt.
Portuguese Pact
Oi agreed to sell its Portuguese assets this week for more than $9 billion, proceeds it can use to buy part of Tim. Oi would add mobile users and gain access to better infrastructure after investing less than rivals in its network.
Tim shares fell 4.9 percent to 12.17 reais at 12:52 p.m. in Sao Paulo. They surged 11 percent yesterday after Bloomberg News reported the potential bid. Oi dropped 4.3 percent and Telefonica Brasil SA slipped 1.7 percent. Telecom Italia jumped as much as 5.8 percent in Milan, Telefonica added less than 1 percent in Madrid.
BTG would acquire Tim and then split it into three, people with knowledge of the matter said. Oi would have about 25 percent of Tim, and Claro -- owned by billionaire Carlos Slim's America Movil SAB -- and Telefonica would divide the rest between them, the people said. Telefonica would join Oi and Claro later, after its acquisition of GVT is approved by local regulators, the people said.
7.5 Times
The companies are prepared to offer about 7.5 times Tim's earnings before interest, taxes, depreciation and amortization, the people said. That would work out to be more than 40 billion reais ($15.3 billion), or about 40 percent above Tim's valuation including debt before the stock's surge yesterday, according to data compiled by Bloomberg.
Telecom Italia believes Tim should be valued at about 20 billion euros ($25 billion) or more, including debt, the person said. Representatives for Telecom Italia, Oi, Telefonica, America Movil, Claro and BTG declined to comment. Tim said in a filing it isn't aware of any agreement, negotiation or proposal involving the company.
In announcing the sale of its Portuguese assets, Oi said in its Dec. 8 statement that the company would "maintain its objective of leading the consolidation movement in the Brazilian telecommunications market."
Telefonica, owner of the Vivo brand in Brazil, is prepared to take part in further consolidation in the country's phone market, Chief Financial Officer Angel Vila said last month. "We are in a position to participate, but probably we don't need to be the ones to initiate," he said at a conference in Barcelona.
Banco Santander SA is advising Telefonica on the Tim deal. The bank declined to comment.
America Movil Chief Financial Officer Carlos Garcia-Moreno said in a Sept. 9 interview that the carrier was entering talks to make a joint bid with Oi for Tim.
Before it's here, it's on the Bloomberg Terminal.
LEARN MORE