The Sony Hack: China's Half-Hearted Defense of North Korea
By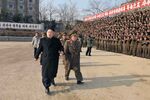 It's not easy being one of North Korea's only allies. Chinese President Xi Jinping doesn't seem particularly fond of Kim Jong Un, the third-generation Kim scion who rules China's erstwhile client state. Relations soured a year ago when Kim purged his uncle and former right-hand man, Jang Song Thaek, the man whom North Korea's official news agency dubbed "despicable human scum." Uncle Jang not only was the second most powerful man in North Korea, he was also close to Chinese leaders. Kim had him executed anyway.
The two sides may still be smarting from last year's purge. Next week is the third anniversary of the death of Dear Leader Kim Jong Il, but South Korean news agency Yonhap reported on Monday that the North Koreans have snubbed their neighbor by not inviting China to send a delegation to mark the occasion. "There are obvious and awkward tensions between Xi Jinping and Kim Jong Un," writes John Delury, assistant professor at Yonsei University's Graduate School of International Studies, on the 38 North blog.
Still, China has to stick up for North Korea when no one else will. Investigators continue to look into whether North Korean hackers angered by the upcoming James Franco and Seth Rogen comedy making fun of Kim played a role in breaking into Sony computers and leaking movies, salary information, telephone numbers, and other confidential data. China's official newspaper, the China Daily, weighed in today, pointing out the North Korean denial and criticizing Sony for releasing The Interview at a time when Kim "is still learning how to fulfill his responsibilities towards his country."
While China's government has its share of issues with Kim, when it comes to a high-profile squabble involving its North Korean ally on one side and a conglomerate from, of all places, longtime rival Japan on the other, the Chinese must go through the motions of siding with the leadership in Pyongyang. Hence today's half-hearted defense of Kim in the China Daily by Wang Junsheng, an associate professor at the China Academy of Social Sciences' National Institute of International Strategy.
Wang points out that Kim's dalliance with nuclear weapons hasn't pleased the Chinese. His "pursuit of political brinkmanship" gave Americans "the impression that he was a rash and insincere young leader." Young Kim may have taken a wrong turn or two, and his foreign policy "is far from flawless." Even so, adds Wang, "one of the unspoken diplomatic rules of bilateral relationships is that no group or country should demonize a country's leader like The Interview does."
That's a noble sentiment—and an especially odd comment for editors to allow through, given that we're talking about North Korea, a country that has made an art form out of demonization of other leaders. The country's official news agency in May called President Obama "a wicked black monkey." Not content with the racist jibe, the Korean Central News Agency also referred to South Korean President Geun Hye as a "woman confrontation maniac." Park's a woman, so of course the news agency said she suffers from "confrontational hysteria." The KCNA likened her to a "rabid dog always keen on biting others."
But no, it's Sony that's at fault for demonizing a country's leader.
Before it's here, it's on the Bloomberg Terminal.
LEARN MORE