RadioShack Posts 11th Straight Quarterly Loss
Lauren Coleman-Lochner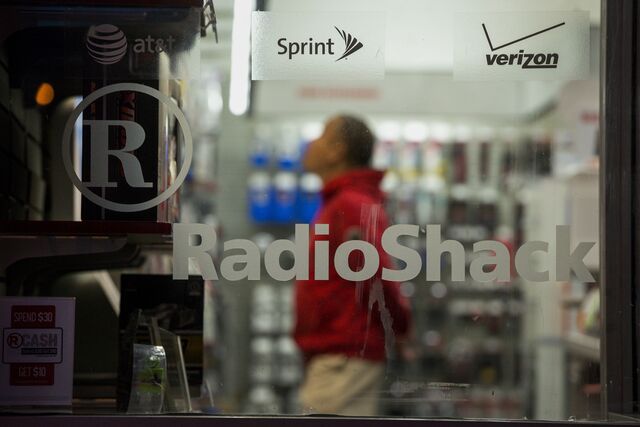 RadioShack Corp., the embattled electronics retailer, reported a larger quarterly loss than projected after sales tumbled and the company struggled to attract mobile-phone customers.
Excluding certain items, the loss amounted to $1.23 a share for the third quarter, which ended Nov. 1, the Fort Worth, Texas-based company said today in a statement. Analysts had predicted a loss of $1.04 on average, according to data compiled by Bloomberg. To cope with the red ink, the company said it's undertaking a cost-cutting plan that will save at least $400 million a year.
RadioShack, which has now posted 11 straight quarters of losses, warned earlier this year that it may have to seek bankruptcy if its condition doesn't improve. It's also feuding with lenders, who blocked an effort to close 1,100 underperforming stores.
"There were some glimmers of hope, but at the end of the day, the liquidity position is drying up at an alarming rate," said Anthony Chukumba, an analyst at BB&T Capital Markets in New York.
As RadioShack's sales have evaporated, its stock has lost more than 80 percent of its value this year. The shares fell 7.3 percent to 51 cents at the close in New York.
Sales Drop
Shrinking mobile-phone sales accounted for most of RadioShack's 13 percent comparable-store sales decline -- a worse performance than the 10 percent drop predicted by Wedbush Securities Inc. Mobile-phone sales plunged 25 percent from a year earlier, making up 43 percent of the quarter's revenue.
The sluggish sales put more pressure on Chief Executive Officer Joe Magnacca's efforts to reduce expenses. Last week, the company said it would end 401(k) matches as part of the cost cuts, according to a memo obtained by Bloomberg News.
RadioShack also plans to pare $105 million from marketing, $100 million from store operations and regional management, and $90 million from store closings.
The company's cash, meanwhile, is a fraction of what it was a year ago. RadioShack had $43.3 million in cash and equivalents at the end of last quarter, part of $62.6 million in total liquidity. That's down from cash of $316.4 million a year earlier.
Net Loss
The net loss in the quarter widened to $161.1 million, or $1.58 a share, from $135.9 million, or $1.35, a year earlier.
On a conference call, executives discussed some of the cost-saving measures, including cutting field managers' ranks by half and changing some store hours. RadioShack also has eliminated its question-and-answer session from the call, leaving investors with less insight into the company's state.
The cost cutting "is likely not sufficient to forestall a restructuring of the company's debt in the near term," Fitch Ratings said in a note today.
The cost to protect RadioShack's debt for six months jumped 5.5 percent from yesterday to a record of 68.5 percent upfront, according to CMA, which is owned by McGraw Hill Financial and compiles prices in the privately negotiated market. That means it costs $6.85 million initially to protect $10 million of securities.
RadioShack's operations consumed $124.2 million in cash in the first half, and it needed a rescue financing package to avert bankruptcy. A group led by Standard General LP provided $535 million in October.
Lender Impasse
As a result of that deal, RadioShack is now enmeshed in a dispute with Salus Capital Partners LLC and Cerberus Capital Management LP, which say they want repayment of their $250 million loan. The lenders say RadioShack breached terms by agreeing to the rescue package.
As RadioShack's largest shareholder, Standard General is an affiliate and should be prohibited from such a deal, the lenders said. RadioShack says it's in compliance because the entity formed for the deal doesn't hold enough stock to be an affiliate.
RadioShack said earlier this week that it won't repay the two lenders and reiterated that it's not in violation of the agreement.
Magnacca has been revamping stores with interactive features, exclusive merchandise and services such as in-store repairs. Those remodeled stores posted comparable-store results 12 percentage points above the company average, Magnacca said today. RadioShack saw "significant strength" in sales of more-profitable private-brand items, he said.
The strategy helped over the three-day Thanksgiving weekend, RadioShack said, with comparable-store sales excluding mobile up 35 percent.
Even so, mobile-phone sales dropped 27 percent over that period.
"It is notable that our core retail efforts are working, even as our mobility category is still experiencing challenges," Magnacca said.
Before it's here, it's on the Bloomberg Terminal.
LEARN MORE