Protesters Link Obama Library with #BlackLivesMatter
The Trauma Care Coalition says if the University of Chicago doesn't re-open a trauma center for gunshot victims, the school shouldn't be considered as the site for Obama's presidential library.
By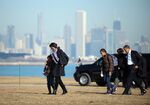 The community organizer turned president of the United States got a taste of community organizing Thursday right outside his own home back in Chicago.
A group lobbying the University of Chicago to provide more adult trauma care for the city's often violent South Side assembled near President Barack Obama's home in Chicago's Kenwood neighborhood to draw attention to their cause. The U of C is one of four finalist competing to secure Obama's presidential library and Thursday marked the deadline for submitting proposals.

"President Obama, don't put your library @UChicago until they recognize #BlackLivesMatter by opening a #TraumaCenterNow," the Trauma Care Coalition said in a statement Thursday.
The group wanted to deliver a letter to Obama at his residence, but its members didn't get too close. The house has been under Secret Service and Chicago Police Department protection since before his 2008 election.
For years, there have been calls for the U of C to reopen the adult trauma unit it closed more than a quarter-century ago. The university operates a sprawling medical center in the Hyde Park neighborhood, but it typically doesn't handle adult gunshot victims. Those who are shot in the surrounding impoverished neighborhoods have to be transported greater distances.
Earlier this year, the Chicago Tribune reported that gunshot victims on the city's Near West Side are typically within a mile of two trauma centers, while those wounded in some South Side neighborhoods might face a 10-mile drive or more. That difference can sometimes mean the difference between life and death.
The activist group called on the president and first lady Michelle Obama not to place the library at the University of Chicago "until the elite institution commits to bringing trauma care for adults to the South Side."

Veronica Morris-Moore, who identified herself as being one of the campaign's leaders, said in a statement that the decision to reach out to the Obamas is related to the "movement for racial justice" following protests after white officers were not indicted in the deaths of unarmed black men in New York City and Ferguson, Missouri.
Earlier this week, the U of C said it was moving to raise the age limit for patients admitted to its pediatric trauma unit and would expand care for those 17 and younger who are seriously hurt.
"It still leaves a lot of people out, and shows that the U of C picks and chooses which black lives it thinks matter," Morris-Moore said.
Asked about the group's trauma center complaints, U of C spokesman Jeremy Manier provided this statement. "We have found overwhelming and enthusiastic support throughout the community for a collaboration to bring the Barack Obama Presidential Library to the South Side and develop a partnership with lasting, positive impact. University representatives have held more than 200 meetings with groups and residents across the city, and thousands of people have expressed their support through letters, videos, and social media."