Netanyahu Strengthened by Party Test as His Opponents Unite
Jonathan Ferziger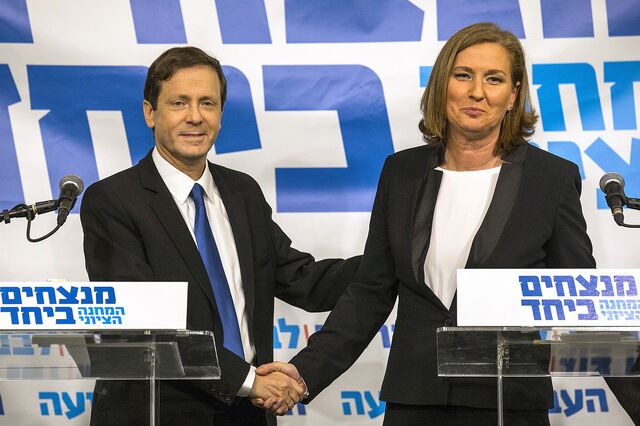 Israeli Prime Minister Benjamin Netanyahu emerged strengthened from a test of power in his Likud party as rival factions teamed up in a bid to defeat him in March 17 elections.
Two-thirds of Likud's caucus approved Netanyahu's proposal to move up the party's leadership race to Dec. 31 and let him handpick some candidates for the election ticket, according to Likud spokeswoman Noga Katz. Analysts have said the vote was a referendum on his leadership of the party.
The results were announced hours after Israel's former foreign minister and chief peace negotiator, Tzipi Livni, and Labor leader Isaac Herzog said their parties would run on a joint ticket.
Polls, including a study by Channel 10 released Dec. 9, have shown that such a ticket could draw more votes than Likud if they bring the former defense minister, Shaul Mofaz, and his small Kadima party into the alliance.
Herzog, who will head Labor's joint list with Livni's Hatenua party, agreed to take turns as prime minister if their joint list forms the next government. He would serve for the first two years, and she would take over for the rest of the four-year term, they said at a press conference in Tel Aviv yesterday.
"We must join forces because only together will we win," said Herzog, the opposition leader in parliament.
Ministers Dismissed
Netanyahu fired Livni, his justice minister, and Finance Minister Yair Lapid on Dec. 2, setting the stage for early elections less than two years into the government's term.
The prime minister accused the two of working together from inside the cabinet to undermine his ability to govern.
For Livni, joining Herzog represents another step away from her political origins as a fellow member of Netanyahu's party. She left in 2005 to form Kadima with then-Prime Minister Ariel Sharon, partly in reaction to Likud's opposition to Israel's withdrawal from the Gaza Strip. Sharon died in January after eight years in a coma.
"Extremists took over every part of the Likud, which was once my home, and have turned our country into an isolated one, closed off and even alienating to its citizens," Livni said at the news conference. "These elections are an historic opportunity to return Israel to itself and reclaim our country."
Before dismissing them, Netanyahu clashed with Livni and Lapid over the budget, negotiations with the Palestinians and proposals to anchor Israel's Jewish identity in law. He took Israel into elections less than halfway through his term at a time when it is grappling with an economic slowdown and Palestinian unrest.
Before it's here, it's on the Bloomberg Terminal.
LEARN MORE