Lenovo Beats IBM Since 2004 PC Deal: Chart of the Day
Bloomberg News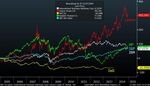 A decade after Lenovo Group Ltd. bought International Business Machines Corp.'s personal-computer unit, shares of the Chinese company are up about 300 percent while "Big Blue's" have lagged behind the Standard & Poor's 500 Index.
The CHART OF THE DAY tracks Lenovo, IBM, Hewlett-Packard Co., Dell Inc. and the S&P 500 starting from Dec. 8, 2004, when the $1.25 billion deal was announced. IBM's 67 percent gain through this Dec. 10 trailed the U.S. stock benchmark's 72 percent increase and HP's 77 percent. Shares of Dell, the largest PC maker 10 years ago, had tumbled by two-thirds before founder Michael Dell and Silver Lake Management took it private in a $24.9 billion leveraged buyout in 2013.
"Low-cost, scale manufacturing plus PC focus was an advantage for Lenovo over U.S. counterparts," said Stephen Yang, head of institutional research at Sun Hung Kai Financial Ltd. in Hong Kong. "Preferred PC vendor status by government and institutions in China provided Lenovo a stable base to be more aggressive in other countries."
Lenovo has consistently led HP since 2013 as the biggest PC maker, according to research firm Gartner Inc. The 2004 deal, which included IBM's ThinkPad brand, vaulted the Chinese company from eighth at the time to third. Lenovo's rally defied what Michael Dell told reporters the day the deal was unveiled: "When was the last time you saw a successful merger or acquisition in the computer industry?" he said. "It hasn't happened in a long, long time."
Somewhat mirroring that transaction, Lenovo this October purchased IBM's low-end server business for $2.1 billion, making it the third-largest server vendor behind HP and Dell. IBM divested to focus on areas such as cloud computing and data analytics. Also in October, the Chinese company bought Motorola Mobility from Google Inc. for $2.9 billion to boost its smartphone business to No. 3 globally. IBM is about 10 times bigger by market value than Lenovo's $15 billion.
"The principles we applied to the integration of the IBM PCD are still valid and will be applied now," Lenovo Chief Executive Officer Yang Yuanqing told a management meeting in October, according to text supplied by a company spokesman. "Bringing teams from three different cultures together is a significant challenge. But it is one we at Lenovo have successfully faced before."
— With assistance by Edmond Lococo
Before it's here, it's on the Bloomberg Terminal.
LEARN MORE